Chapter
Under the Church of England's Cathedrals Measure 1999 the Statutes of the Cathedral provide for the membership of the Chapter as follows:
The Dean, the Residentiary Canons, two appointees of the Bishop, the two Churchwardens and one lay person appointed annually by the Cathedral Community Committee.
Chapter is served by two officers, the Chief Operations Officer and the Director of Finance.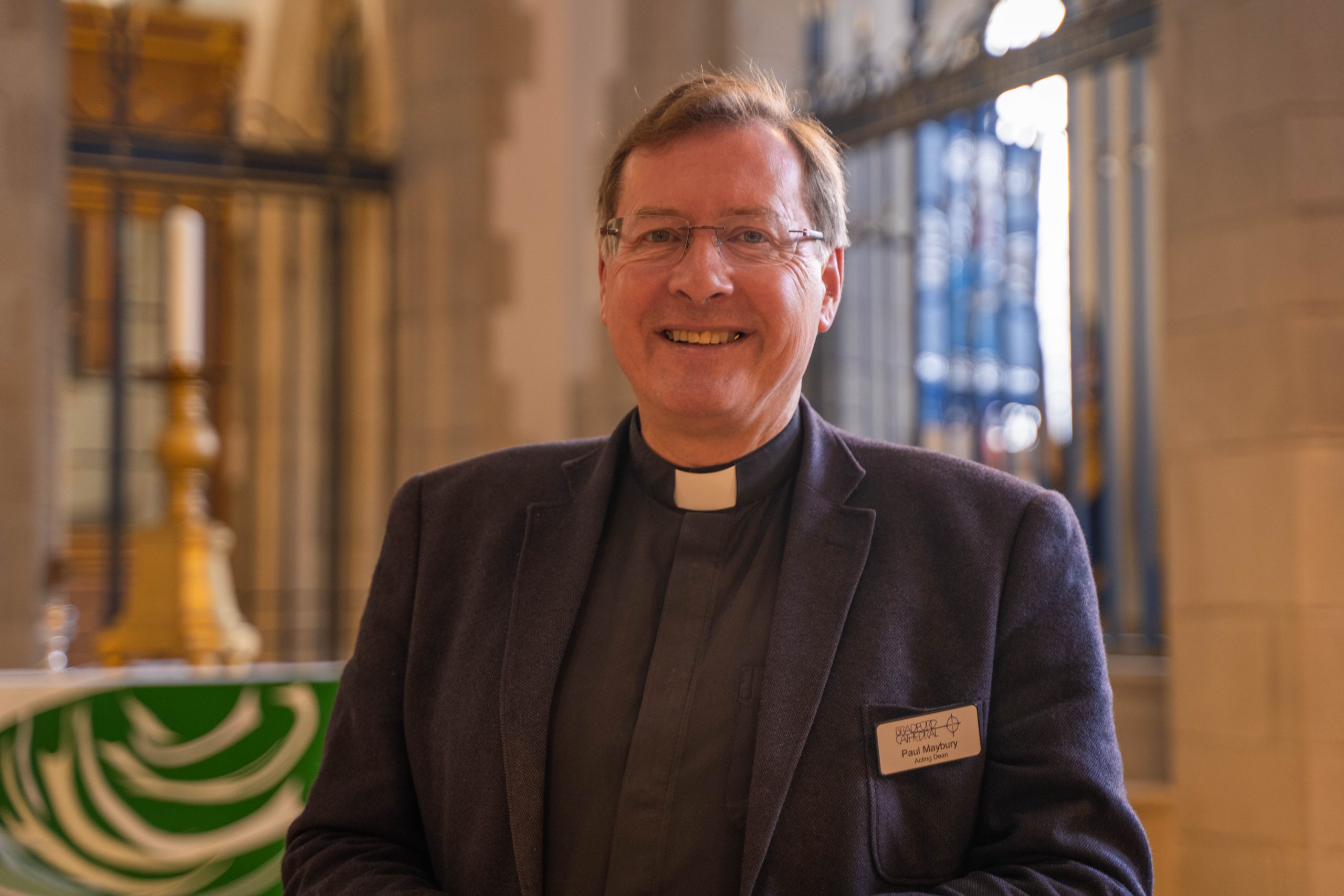 Canon Paul Maybury – Residentiary Canon
Canon Paul is married to Sarah and has three adult children and three grandchildren. He has worked for the Church of England since 1984: Ten years as a Lay person and Twenty-six years ordained. During this time Paul enjoyed fruitful parish ministry with significant community engagement; building renovations; not-for-profit business development; diocesan prayer and spirituality leadership; church-planting; area dean responsibilities and was made a Honorary Canon of Wakefield Cathedral.
Paul has been Canon Precentor at Bradford Cathedral for five years. This role involves oversight of the Music Team and the Vergers team, both staff and volunteers alongside shared clergy responsibilities for leadership within the Cathedral community.
As a member of Chapter Paul brings his experience of mission, project management, business development and vision casting with a pragmatic and prayerful focus.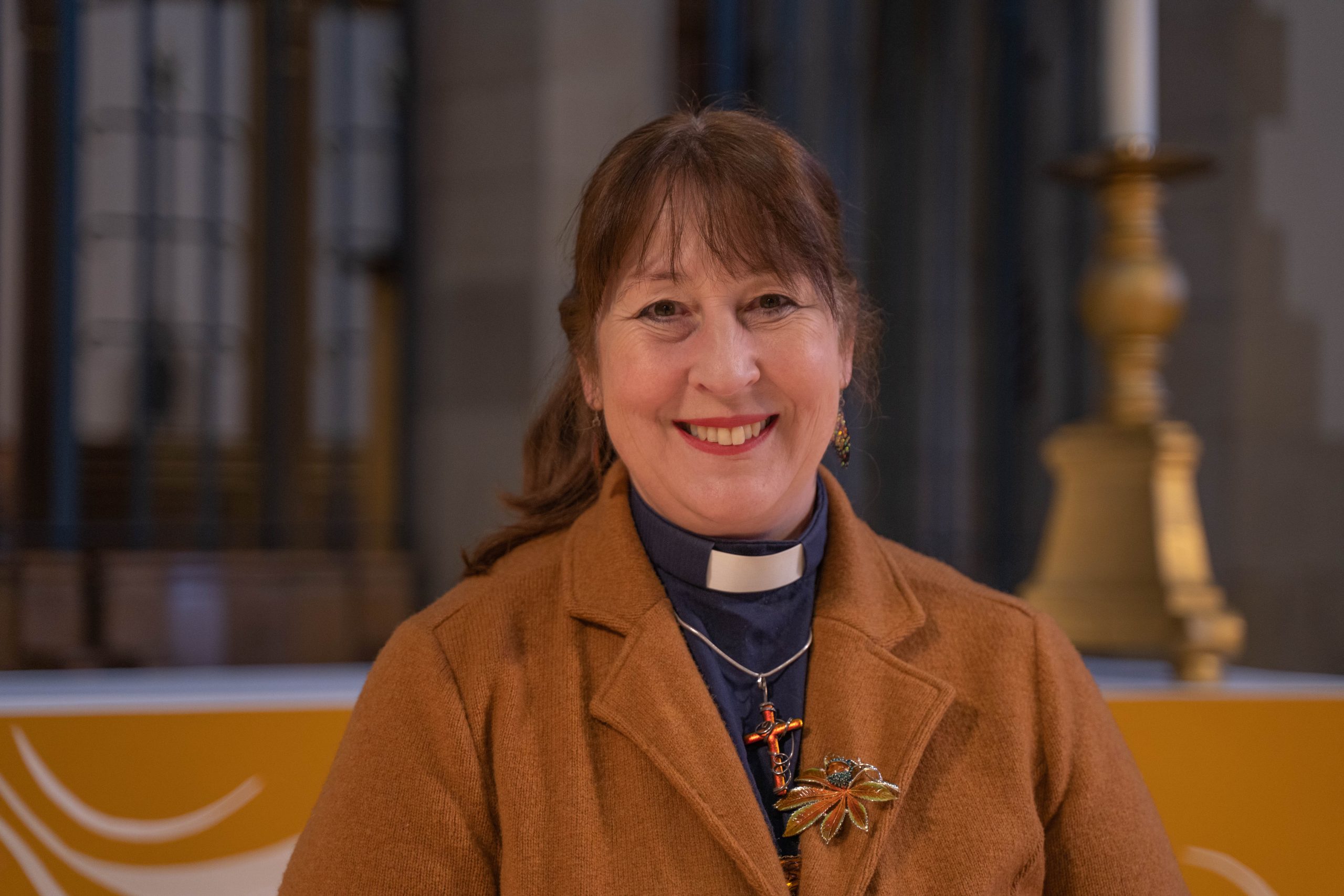 Canon Mandy Coutts – Residentiary Canon
Canon Mandy is the longest serving member of chapter, having been with us for 7 years.
Mandy is a member of Chapter due to her role as a residentiary canon- "I bring the perspective of the life of the congregation, mission and outreach as well as safeguarding elements… I particularly bring the safeguarding. I also tend to keep an eye on the eco and environmental side because we are an eco cathedral."
Mandy has a background in both education and industry at management level in both and brings experience from both those worlds to her responsibilities in Chapter.
"I have responsibility for the education team so I also bring that perspective to the table. As members of Chapter we hold the strategic focus for the cathedral both currently and for the future to maintain good financial governance, managing our resources and safegaurding"
Mandy is married to Richard, who is a vicar in neighbouring parish. They have two adult children, a dog and three cats. Mandy is also an amateur artist and folk singer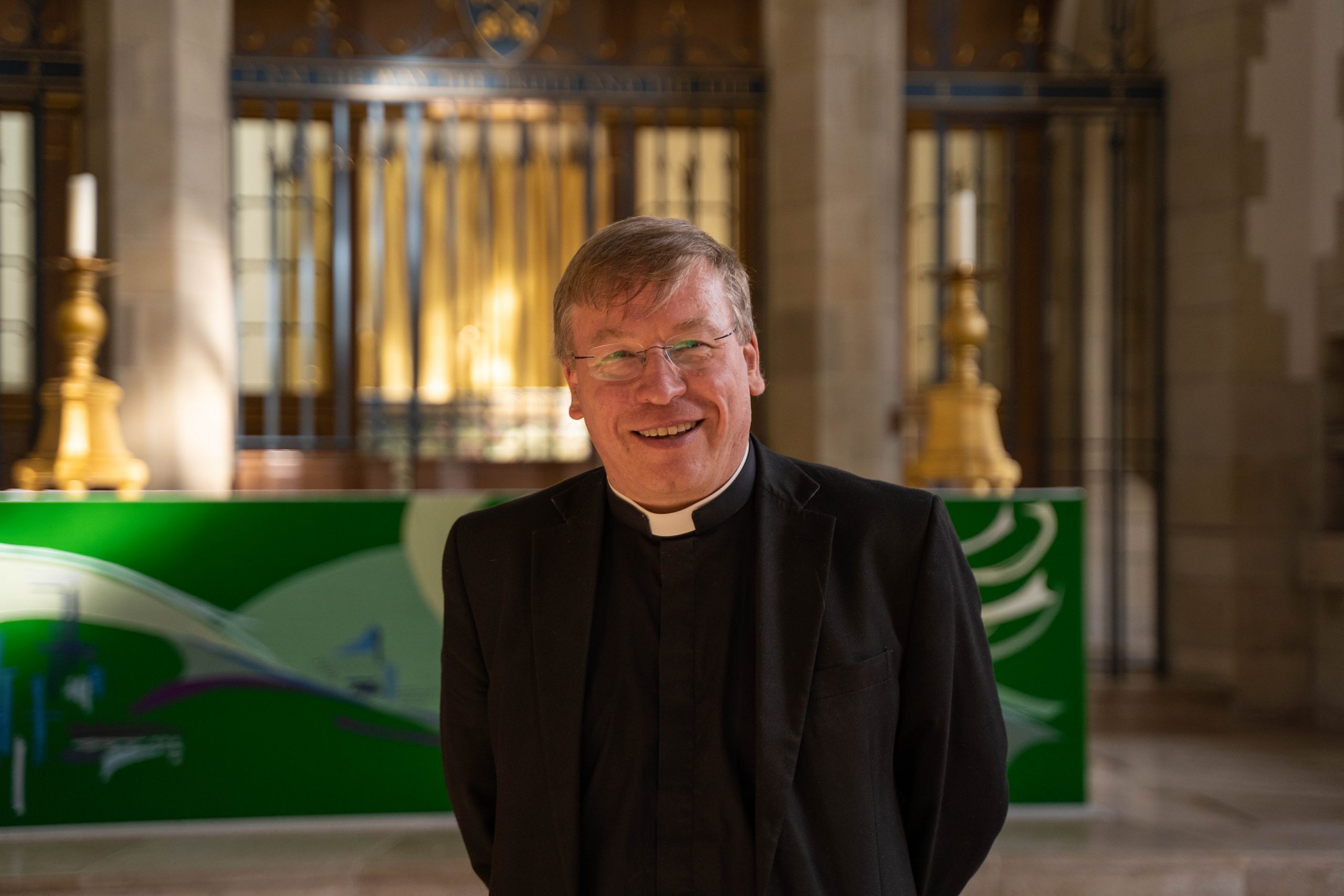 Canon Philip Gray – Assistant Canon Precentor
Canon Philip has been our Acting Canon Precentor since August, and as one of the Residentiary Canons is a member of Chapter. Philip will be serving with us at the Cathedral, and therefore a member of Chapter, as we go through the process of recruiting a new Dean. He is supporting the ministry of the Cathedral during this time of transition, and will leave us when the new Dean is appointed.
Philip said "I have served in parishes for the last 28 years except for six years as a Bishop's Chaplain. I hope, therefore, to bring plenty of experience, as well as the perspective of the reality of parish life, and therefore the particular contribution that the Cathedral can make to the wider life of the church and community."
Philip is working at the Cathedral for half of each week. His family home is in Nidderdale with his wife Sue, who is a Counsellor and Psychotherapist. They have two adult children, Anthony who is Director of Music at St Wilfrid's, Harrogate, and Rebecca, who has recently finished at Durham University with a degree in psychology.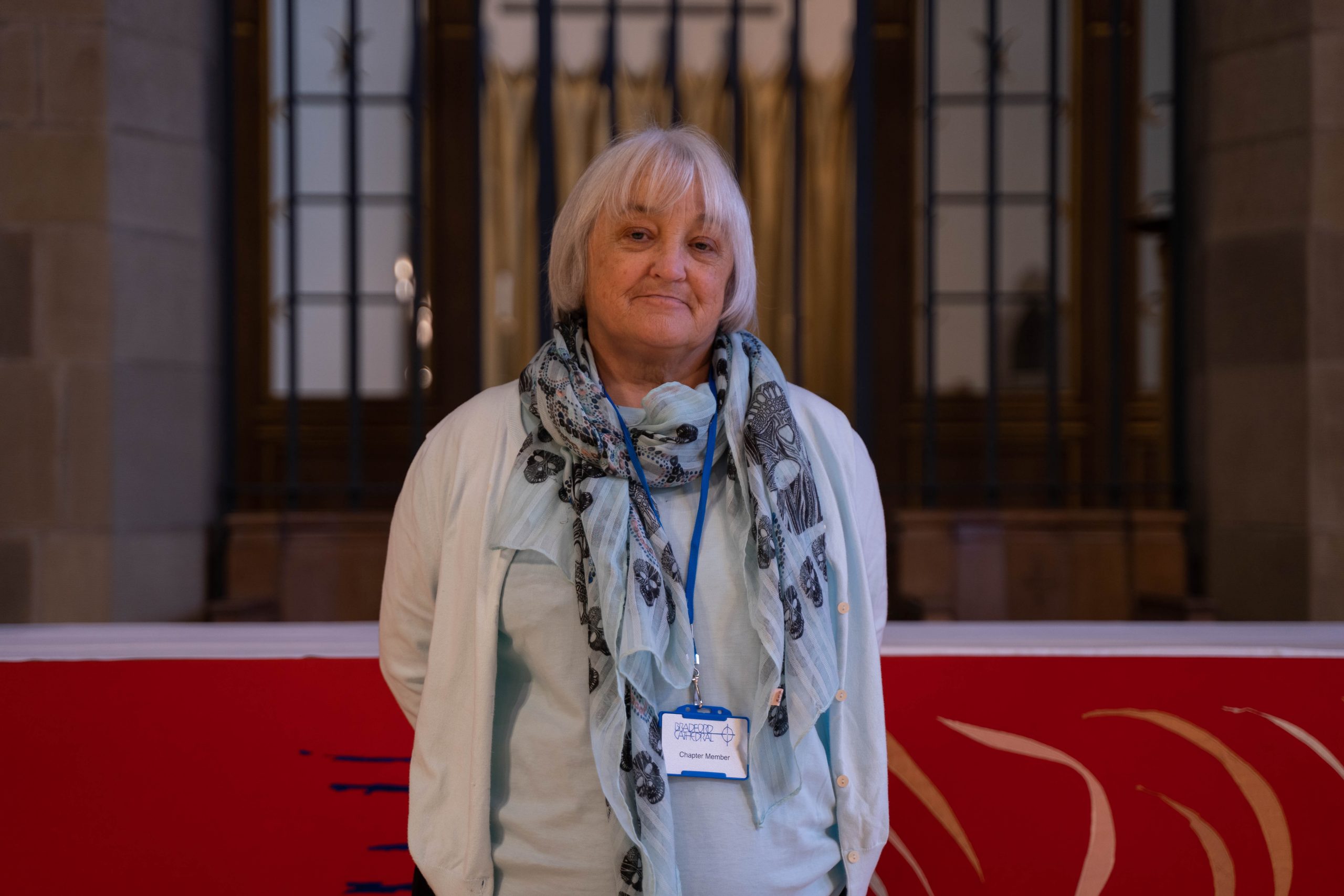 Sharron Arnold – Bishop's appointee
Born in Kent, brought up in the Channel Islands and now living in Bingley, West Yorkshire.
Sharron is qualified as a Chartered Accountant and spent her career in both practice and industry.  Sharon was previously Chair of the Bradford Diocesan Board of Finance and is currently Chair of Governors for Bradford Forster Academy, a church school in inner city Bradford.  She was appointed Bishop's Representative on Chapter at the same time as she was made a Lay Canon of Bradford Cathedral.
Sharron and husband Richard worship at The Eldwick Church, a local ecumenical partnership established with the Methodist chapel in Eldwick 10 years ago.
"It is a great privilege to be a member of Chapter, bringing my finance skills to the table but also offering an independent view in meetings.  One positive outcome from Covid was that I joined the clergy and others in the congregation on a regular basis for Evening Prayer via Zoom.  This has now become an integral part of each day.
When not busy in meetings I enjoy cooking and after a lapse of many years am now trying to get to grips with knitting again."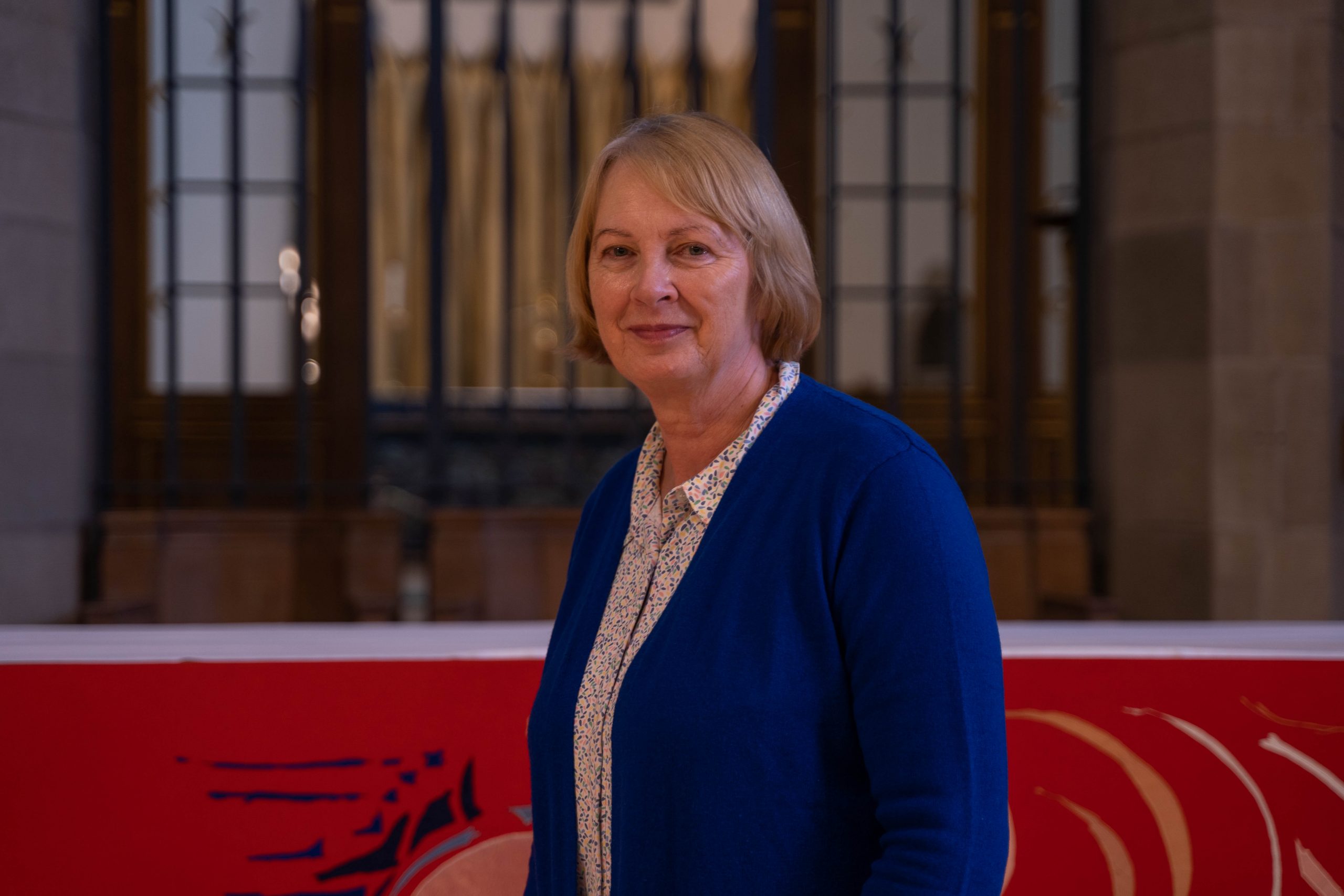 Monica Slocombe – Churchwarden
Having lived around West Yorkshire all her life Monica's first experience of Bradford was back in the 1970s studying at the BRI to become a physiotherapist.  Her career in the NHS spanned almost 40 years and spent most of that time as a manager of Clinical services moving around from St James Hospital in Leeds to Calderdale and then Huddersfield community health services. Her focus has always been on helping people achieve the best they can.  During that time she returned to Bradford University to complete a Masters degree in Management.
She first started worshipping in 2006 at the Cathedral at the 8 o' clock service on Sundays. This enabled her to get some personal prayer time, before heading off to help her husband who was church warden at St Margaret's Thornbury during an inter-regnum. The Cathedral drew her closer and in 2013, after her husband died, she started volunteering more and more! 'The support I received from the clergy and the Cathedral family during that difficult time was amazing, I felt I had to give something back'. 'Becoming a Church warden and serving on Chapter has enabled me to use my management skills, and the desire to help people never diminishes'.
Outside of her duties at the Cathedral Monica also works as a volunteer advisor for Citizens Advice, and spends time walking her rescue dog Pip, supporting her friends and neighbours and looking after the garden.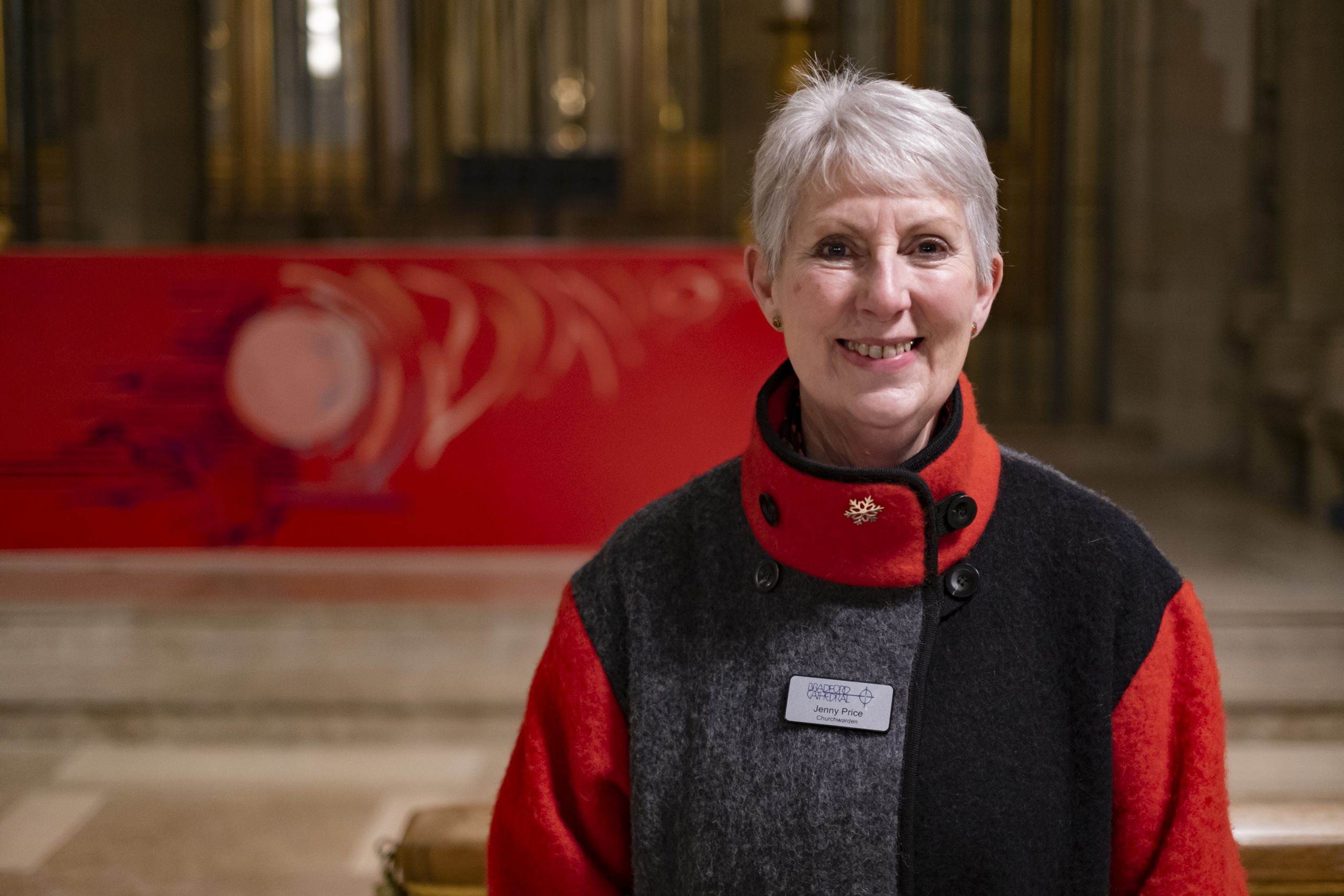 Jenny Price – Churchwarden
Coming from Liverpool, Jenny has always been involved in roles which involve communication. Originally training as a teacher, and then moving into education social work, she has enjoyed using these skills both to support individuals and make a difference. From this it was an obvious move into safeguarding both in a school setting, and now for the last 13 years within the Church of England.
Never being one to sit quietly on the margins, Jenny has accepted national involvement in both education and the Church of England. She was the longest serving general secretary of her professional association, a role which offered many valuable opportunities to make a difference to the lives of young people, and support other staff in doing so, plus the opportunity to meet and work with some marvellous colleagues whose influences are still treasured.
Having been a local Diocesan Safeguarding Adviser for many years, in 2020 she moved to her true love, talking with others, and has become the safeguarding trainer and volunteer coordinator in the diocese of York, and an associate trainer with the national safeguarding team.
Jenny is keen to be as inclusive as possible, and finds joy in encouraging others to get involved. The Cathedral is blest with the volunteers it has already, but we know that there is always room for more and that sometimes people are just waiting for the invitation.
Having a good work life balance is also essential, so when not talking about safeguarding or involved in church warden duties, Jenny and husband Ian, a member of the verger and safeguarding teams, can be found gardening, going to the theatre, planning trips to Arran [and perhaps even farther afield when we can] and, most importantly, acting as Butler and Servants to our family of 6 indulged [and rescued] cats.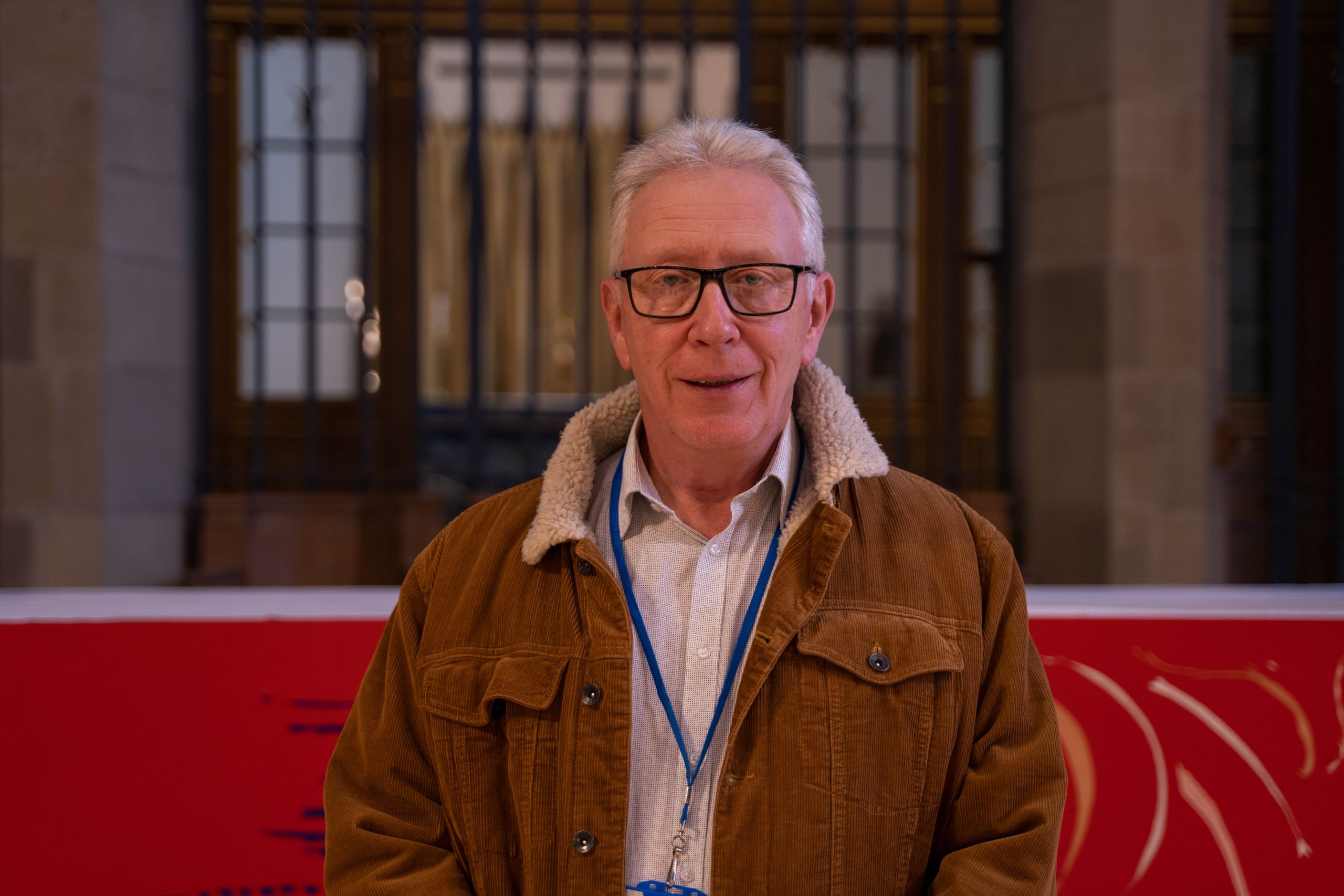 Malcolm Carr – Community Committee appointee
Malcolm was baptised, confirmed (met his wife Ruth) and married at the Cathedral. His children were also baptised, confirmed, and married here. The Cathedral is in every way, Malcolms' Spiritual Home.
Malcolm was born on Tennyson Place, part of the old Otley Rd slum clearances in the 1960s which was within the Cathedral parish. He returned to the Cathedral in 1969 as an 11-year-old to join the Cathedral Boys' Brigade company and has been worshiping here ever since.
In addition to his involvement in youth work with Boys' Brigade for over 40 years, Malcolm was also a leader at Cathedral CYFA for over a decade. At different times Malcolm has served on Congregational Committee, Community Committee, Deanery Synod and Medical Matters. He is currently the Lay Community Committee member on Cathedral Chapter, a Lay Assistant for Eucharist, and a Steward at Sunday 08.00 service where he usually worships. Malcolm was also a member of the Cathedrals Gospel Rock Bands 'Autumn Gold' and 'Open Secret' during the late 70s and early 80s.
Malcolm began his training as a psychiatric nurse in 1976 and continues to practice as a registered nurse. Nowadays he 'fly's a desk' as an Independent Quality and Governance Healthcare Consultant specialising in Safeguarding, Serious Incident Investigations, Risk Management, Policy and Quality Improvement all of which fall under the umbrella of Patient Safety.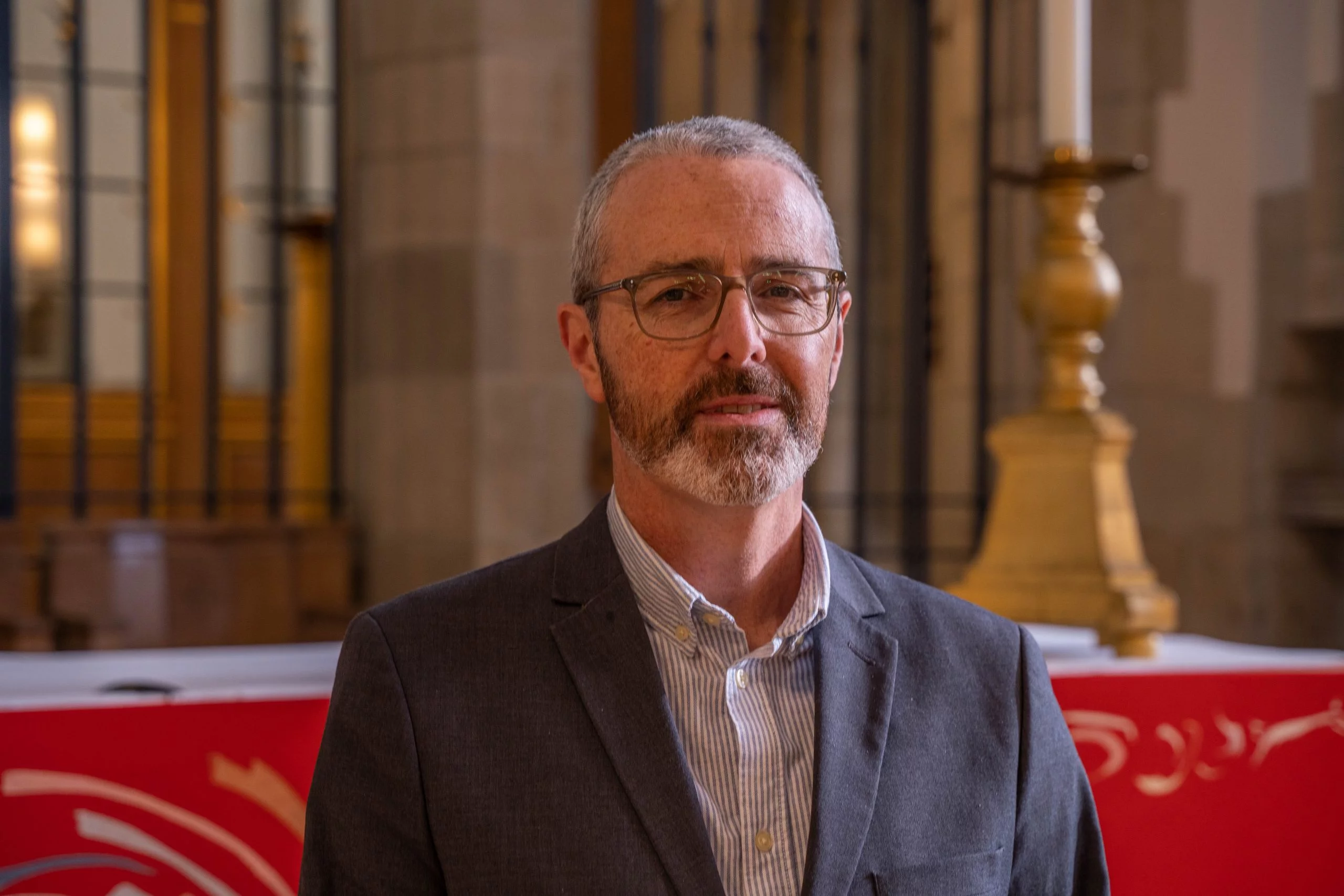 Andy McCarthy – Chief Operations Officer
Andy, as chief operating officer at the Cathedral, attends chapter as an ex-offio member. "I report to chapter on the operational matters relating to the Cathedral"
Andy has been in post as Chief Operating Officer at Bradford Cathedral since January 2021, having previously been employed at the Cathedral as Income Development Officer. Andy spent many years working in arts and culture, including as Director of the Bronte Parsonage Museum in Haworth, and Development Manager at Yorkshire Sculpture Park. He also worked as Head of Fundraising & Development for a Yorkshire mental health charity prior to joining the Bradford Cathedral team in 2019.
Andy lives in Oxenhope with wife Dee and has an 18 year old son called Gabriel who is currently at University.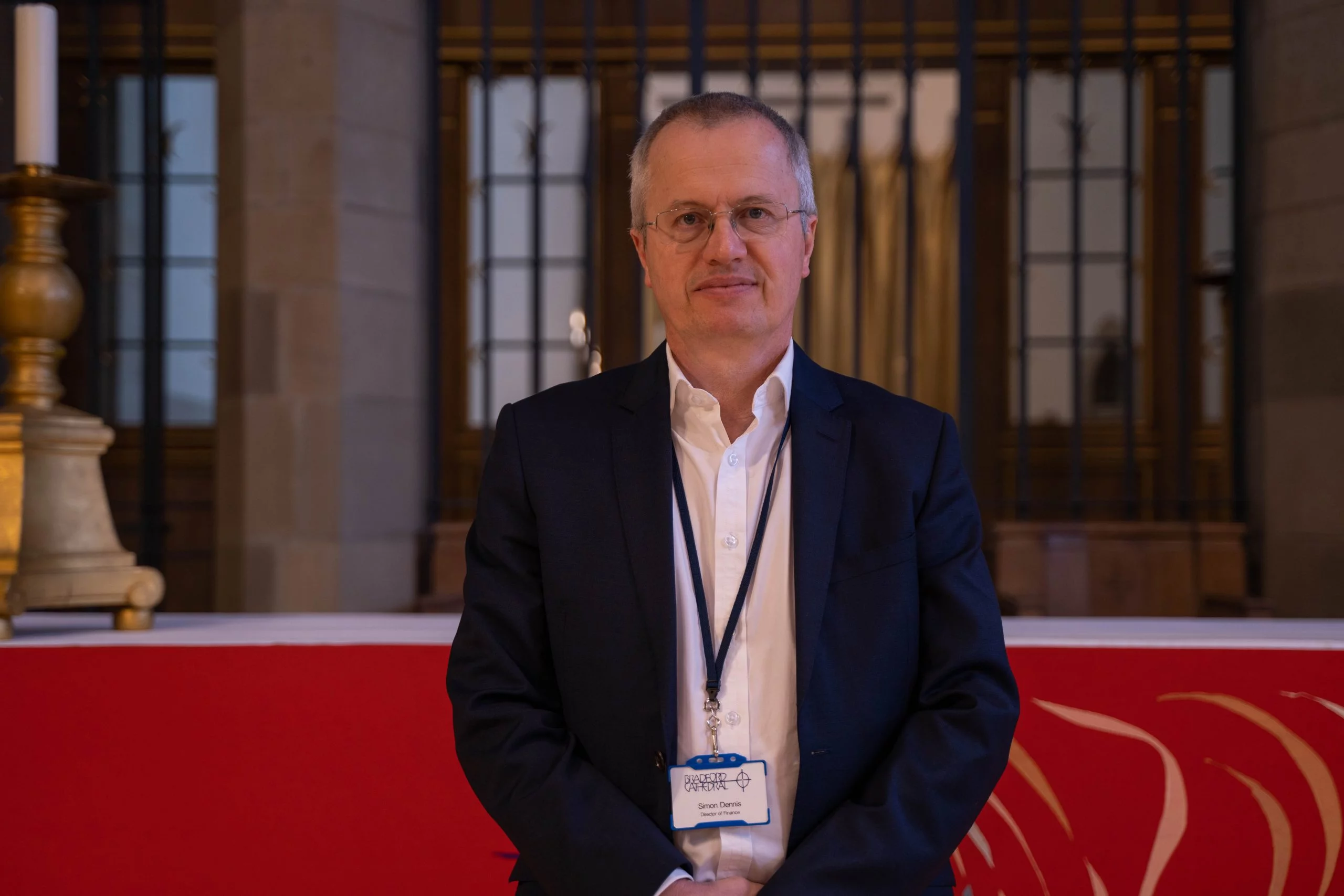 Simon Dennis, Director of Finance
Simon has lived in Bradford since 1982, and has worked at the cathedral for nearly 6 years as director of finance. Simon works 2 days a week with us, and the rest as head of policy for Rotherham Council.
"I'm an advisor on Chapter, I make sure that chapter are aware of the financial position and to help them make decisions about the finances of the cathedral. So much of what they talk about often has a financial implication so that's why Im sitting in the room ready to jump in if needed."
Simon is married and has two adult daughters who are both teachers.