It is clear that our children and young people need opportunities to reflect on the Covid-19 pandemic and its aftermath. As well as the collective experience of the global pandemic, they will also all have their own personal and family experiences and worries, which many will have been carrying with them – perhaps unacknowledged and unspoken – for a very long period of time.
Our wellbeing workshops focus on the thoughts and feelings generated by these experiences in the lives of our children and young people, with a physical journey around 4 stations set out in different areas of the Cathedral, dealing with:
Worries and Burdens
Sadness, Loss and Remembrance
Strengths and Thankfulness
Hope and Moving Forward
At each station there will be a focus for reflection and an activity. The pupils will ideally spend around 20 minutes at each station. The activity will involve them "laying down" or "leaving" something at the station.
Each session will begin with a moment of "space" and physical separation spread out in the nave of the Cathedral before the pupils make their journey in small groups around the stations; it will end with a "coming together" once again in the nave and a final act of sharing involving the whole group.
The nature of the foci and activities can be reflective or spiritually reflective, depending on the wishes of the school.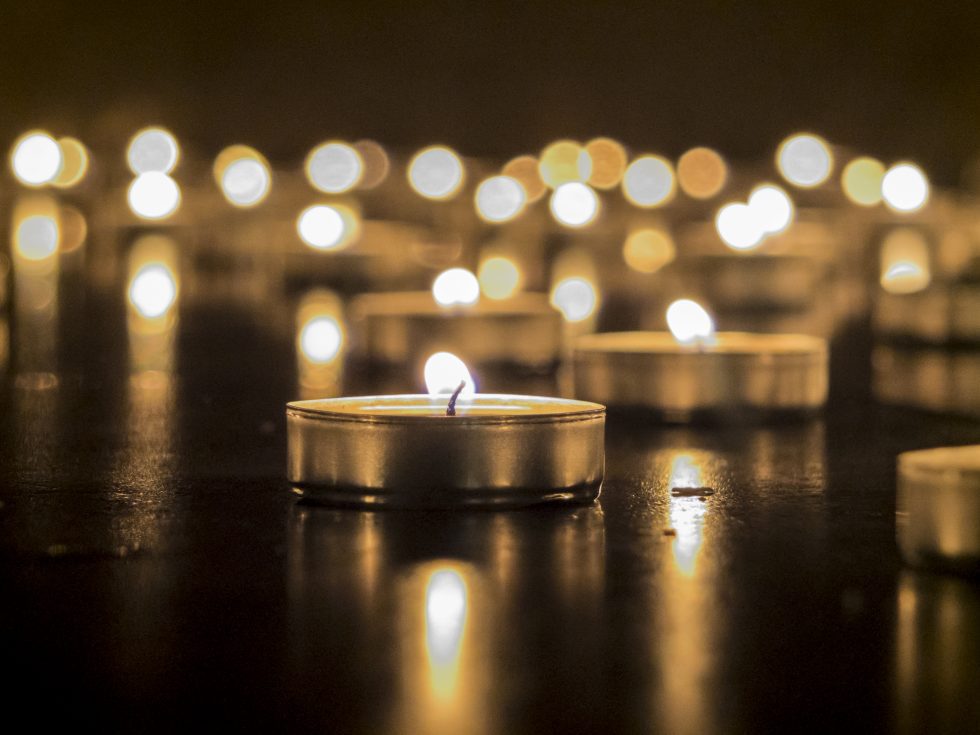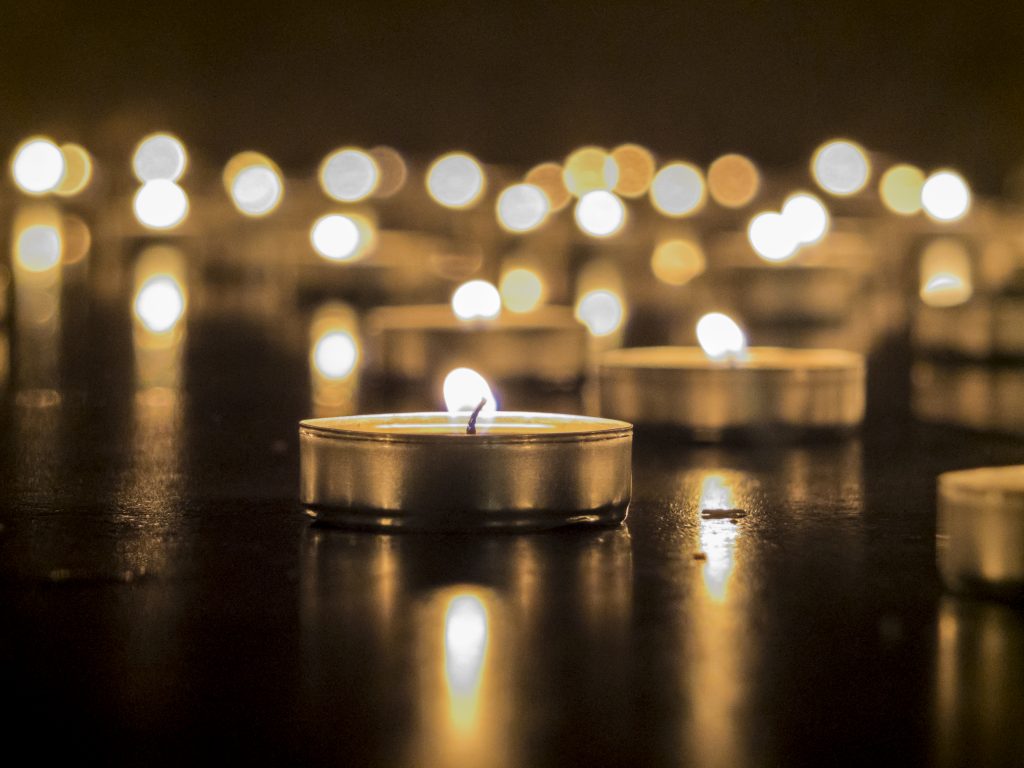 More details
Introductory activity
Pupils will be encouraged to spread out and find their own space in the nave. After the health and safety notices and an introduction to the session, they will be encouraged to sit, recline or lie comfortably in the space, to look at the beauty of what is around them and to feel the peace.
Stations 1, 2 and 3
Pupils will be split into 3 smaller groups and will approach the first 3 stations in a "carousel" order. These 3 stations are: Worries and Burdens; Sadness, Loss and Remembrance; Strengths and Thankfulness.
Worries and Burdens
Pupils pick up a stone that represents their worries and burdens and carry it round with them for the rest of the workshop. (For young children, these stones can be put into a bowl and carried by an adult). At the end of the workshop we lay them down and make a path with all of them.
Pupils write their worries/burdens on a piece of paper and these are posted in a Worry Postbox.
Sadness, Loss and Remembrance
This is all about the sadness of what/who we have lost, what/who we miss and what/who we want to remember. It is about aspects of their lives they miss as well as people they miss. Not all children will have lost someone close to them, but they have lost so much of their ordinary lives and experiences.
Memory Tree:
We start with a bare (2D, standing) tree and pupils write the names of anyone they miss or of the things they miss, on individual leaves of different colours, which are then hung on the tree- which becomes more vibrant and lifelike.
Strengths and Thankfulness
This is all about looking at the other side of things: acknowledging their resilience throughout the pandemic, how they have grown and thinking about what they are thankful for and what they take away from this awful time in a positive way.
There will be an activity where they will write down on a post-it note what they think their strengths have been during the pandemic and perhaps some new skills they have learned.
They will write the name of someone or something they are thankful for on a paper heart and these will be left and displayed at the station.
Station 4 – Hope and Moving Forward
The 3 smaller groups will come together.
The butterfly will be used as a symbol for change and moving on from one stage to another and hopefully, a more beautiful one in which they can spread their wings etc.
Pupils will decorate their own butterfly using a template outline. It will be unique to them and reflect their feelings at this stage of their journey.
Final stage
The group will come back to the nave and share the "journey". Pupils will hold up and then take away with them their butterflies; the pebbles will be laid down to make a path and we will put (battery) tea lights alongside the pebbles to "light" the way as they leave the Cathedral.
Schools may wish to light one candle and leave it burning in the Cathedral, to represent their collective light and hopefulness, etc.
The Spiritual Wellbeing sessions will follow the same format, but with a biblical focus and prayer at each station and stage.
Please let us know whether you wish to have a wellbeing or spiritual wellbeing session for your visit when you make your booking.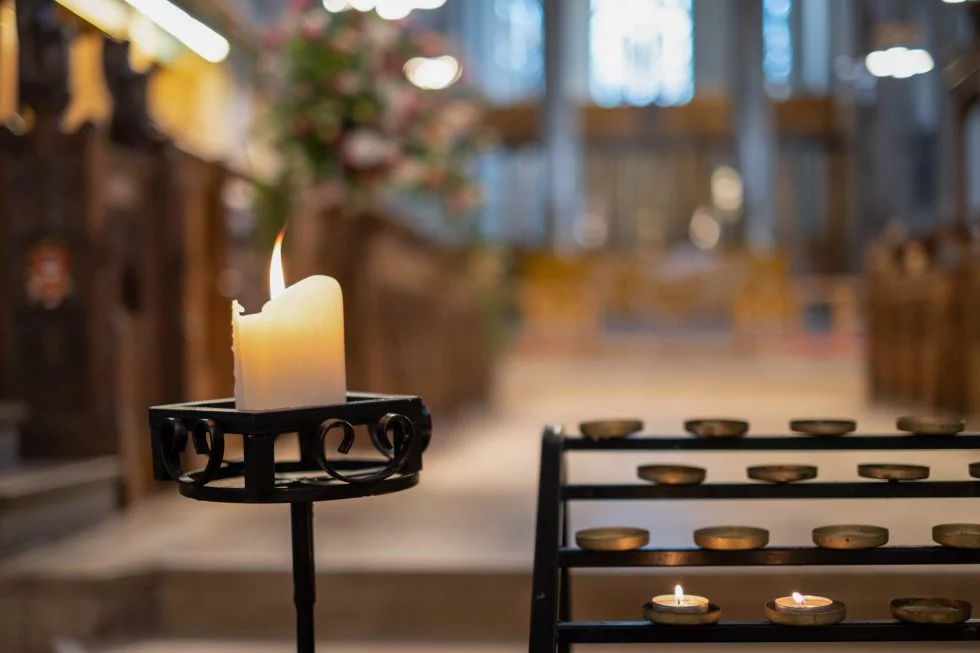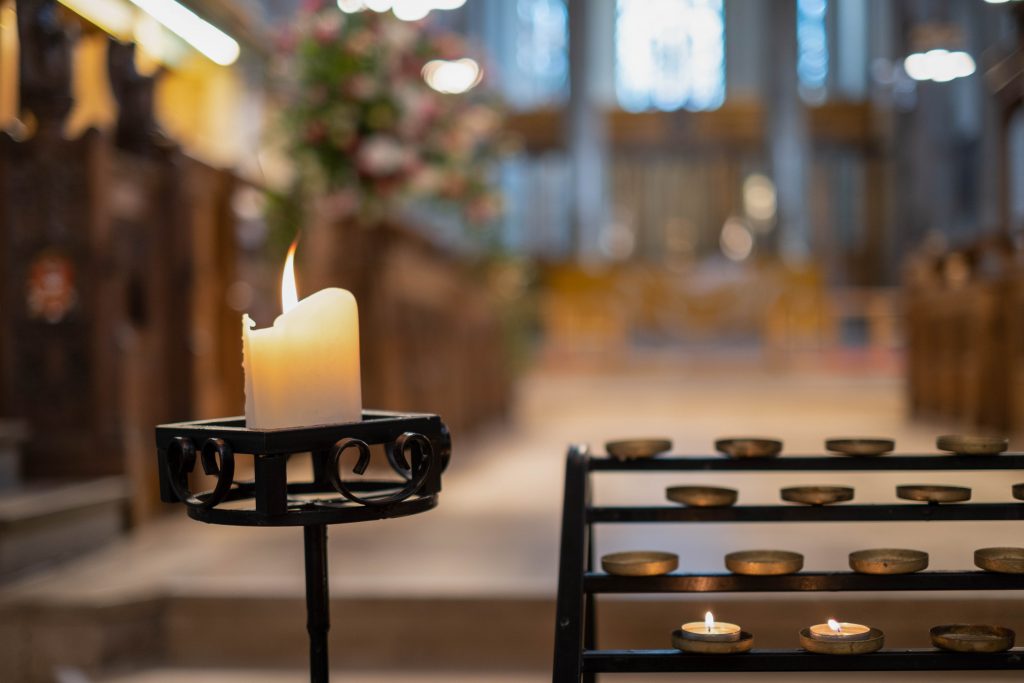 Booking your Wellbeing Session
Bookings are now being taken, and are available on Thursdays.
The morning session starts at 10am and the afternoon session starts at 1pm.
Please note: The ideal visit time is 2 hours.
Please allow at least 1 hour 45 minutes for a wellbeing session.
The maximum group size for a wellbeing session is one class or group of no more than 35 students.
Please contact education@bradfordcathedral.org to book your wellbeing sessions or to find out more details about educational visits.