On this page you can find out more details about the venues in Bradford Cathedral, with floor plans, images, maps and more.
Bradford Cathedral Nave
The nave is the main space at Bradford Cathedral. You can choose different areas of the space for your event, whether that is the entirety of the space, one of our side chapels or just a certain section of it.
Floor Plan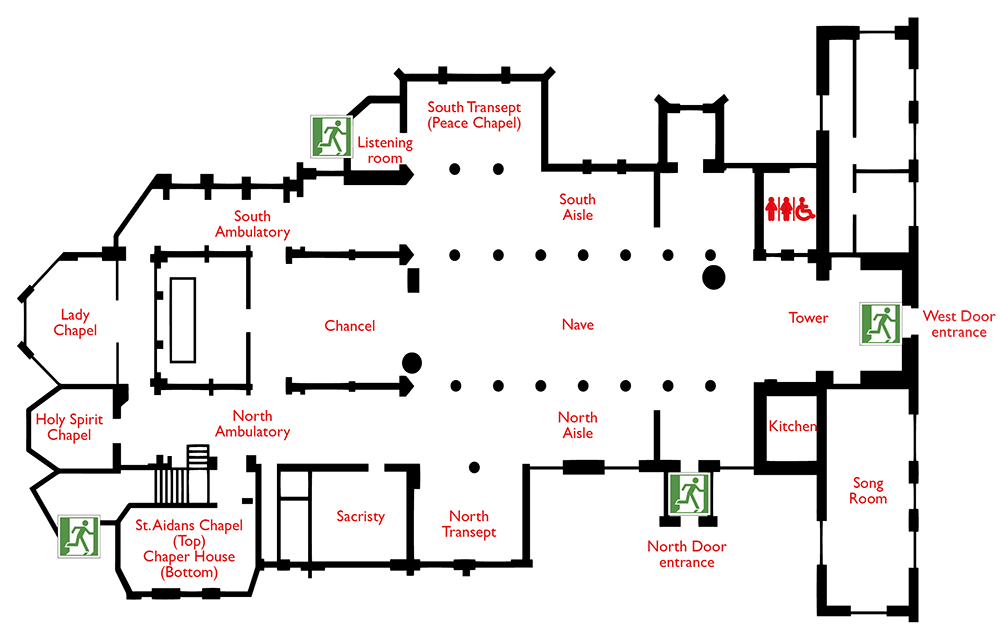 Holding events in the nave: Standard events and concerts
We have several standard layouts at Bradford Cathedral, but we can also accommodate bespoke seating arrangements.
We may add additional seating arrangement styles to this page as new events are held in the Cathedral.
Please note that these floor plans and layout are representative, and may be laid out slightly different dependent on the requirements of the booking and other considerations in the space.
Below is an example of our standard seating arrangement, with a capacity of 376.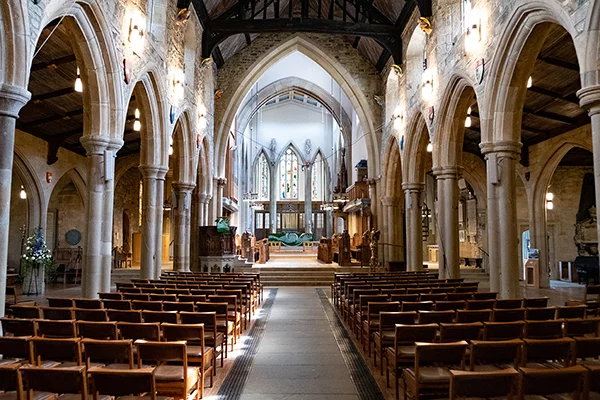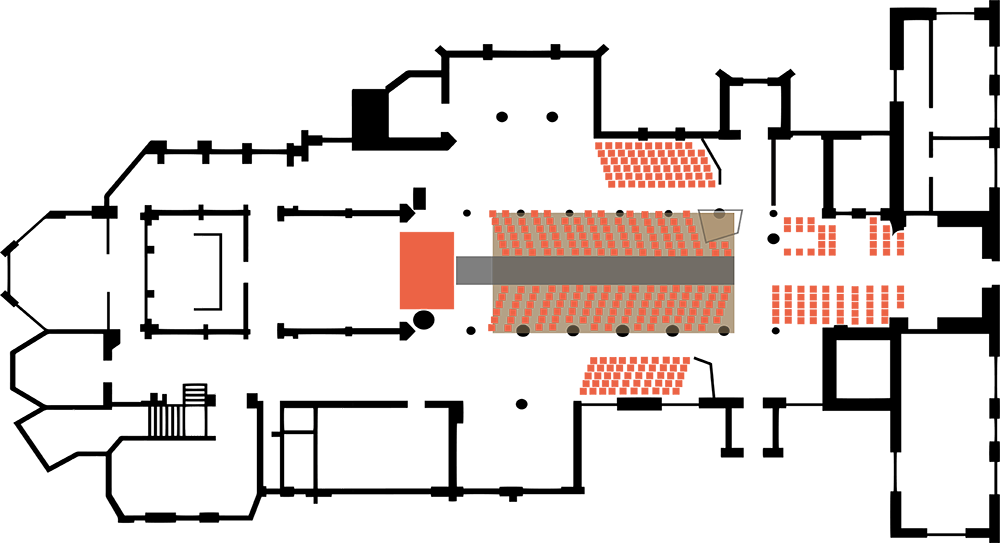 There a variety of configurations for our standard seating. The example above shows a capacity of 376, breaking down as follows:
| | |
| --- | --- |
| Central Nave | 184 |
| South Aisle | 65 |
| North Aisle | 50 |
| Tower | 77 |
Additional seating can also be added in the transepts, and an additional 34 can be added by reducing the central aisle slightly.
Please note: if you wish to sell alcohol at the event we have to limit the capacity to 499 (including staff). A plot of this can be seen below.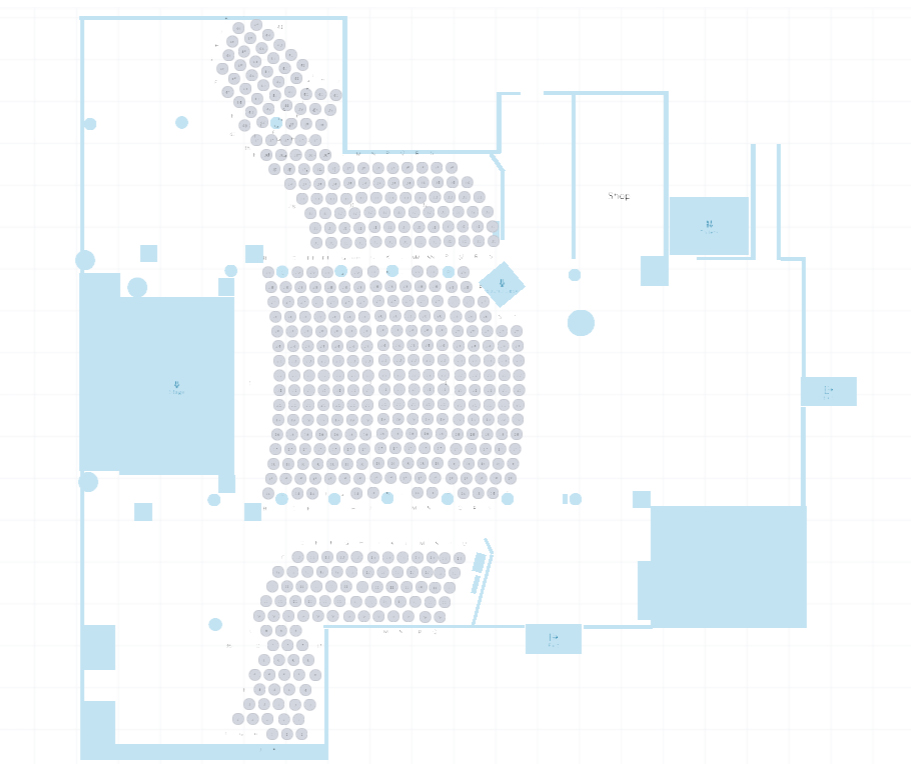 For these 499-capacity events, we include 476 seats. These include 250 seats in the nave (with 21 held back for wheelchair users), 146 in the aisles and 80 in the transepts. This map is built into Eventbrite to help with ticket sales if you would like us to support with these sales.
We advise ticket holders that the nave has unrestricted views; the aisles have some restricted views, and the seats in the transept also have restricted views and some side on views. You can see examples of our restricted views in the images below. We advise that for bookings that have a strong visual presence to concentrate seating in the nave and tower, though for music events the side aisles can be used. We can provide projectors and screens for the side aisles to improve visibility of stage-based events and conferences.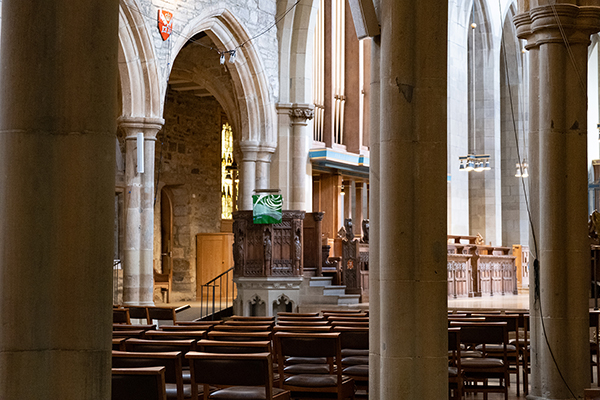 The plan below includes our staging unit, which comes in two sizes: a full-stage is roughly 5m across by 3.5m deep, and the half-stage 5m across by 1.75m deep.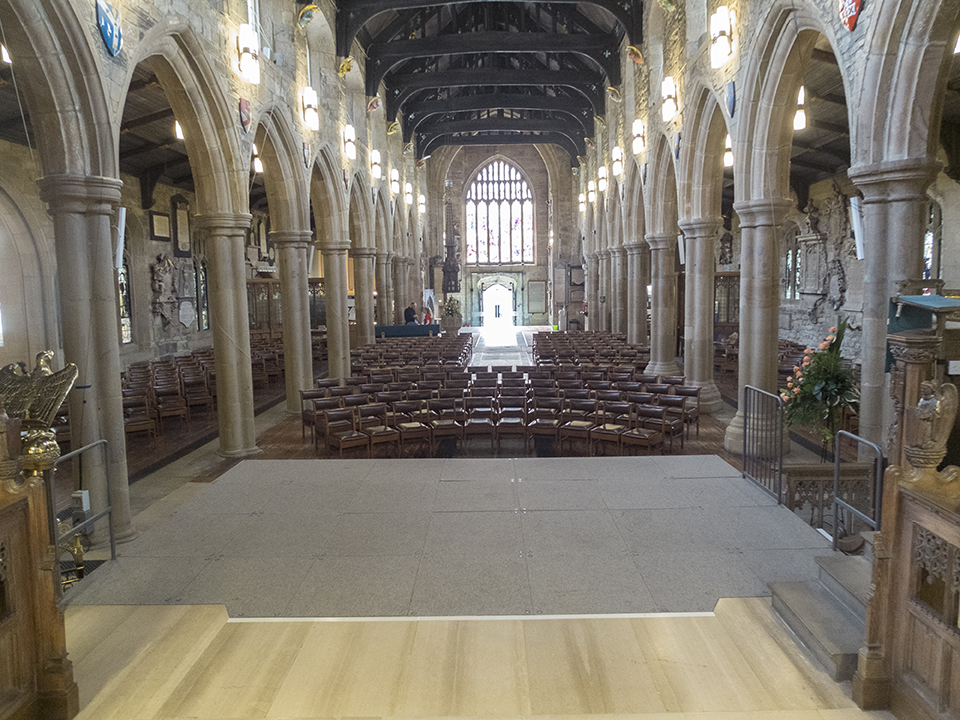 We can also provide tiered staging, including a small podium for a conductor, as at our 2022 or 2023 events with the Leeds Philharmonic Chorus.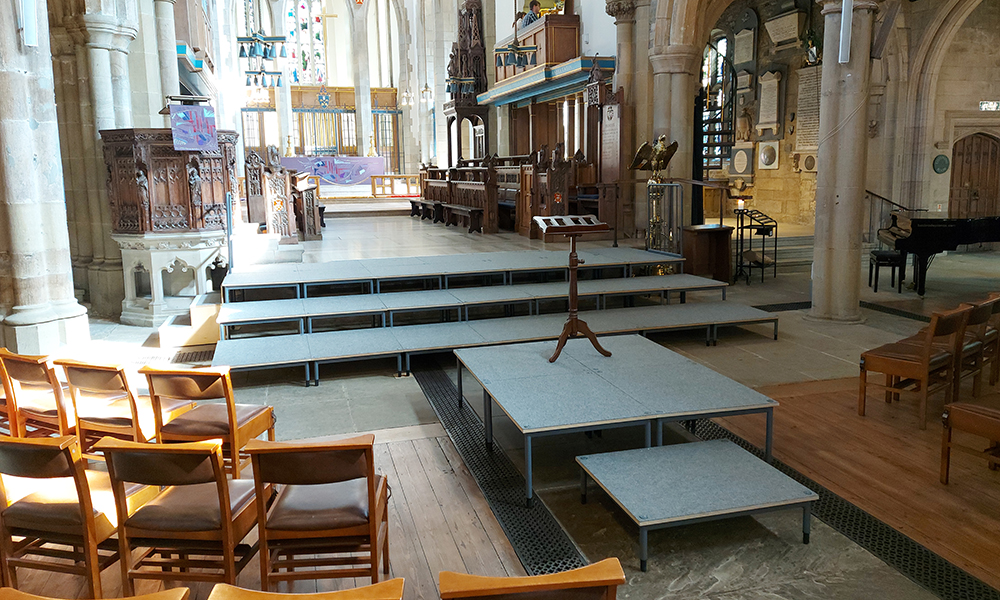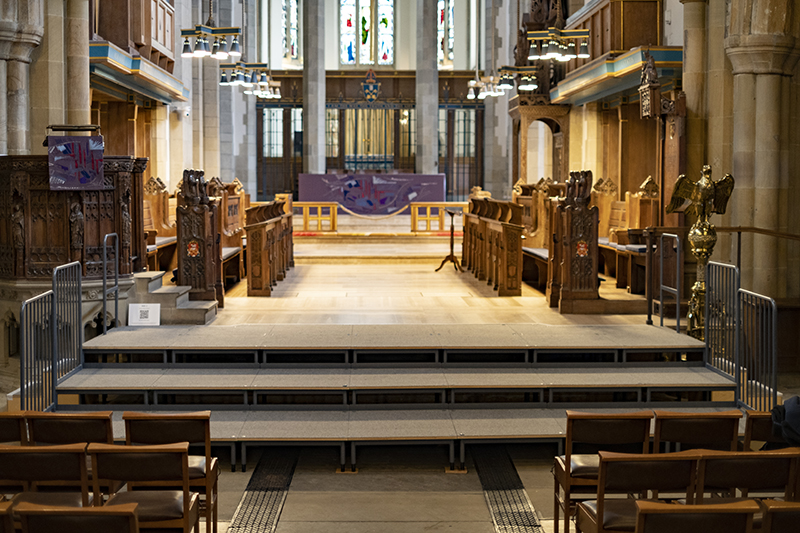 Holding events in the nave: Fairs and exhibitions
We can also clear the Cathedral of all chairs for events such as vintage fairs.
Holding events in the nave: Talks and Seminars
We can also hold talks and seminars in the nave. The number of seats shown in these examples is fifty, but more can be included in your plan, and we can build in aisles and more, depending on your requirements. We can also do smaller talks and seminar spaces. Photos of these are shown under the floor plan.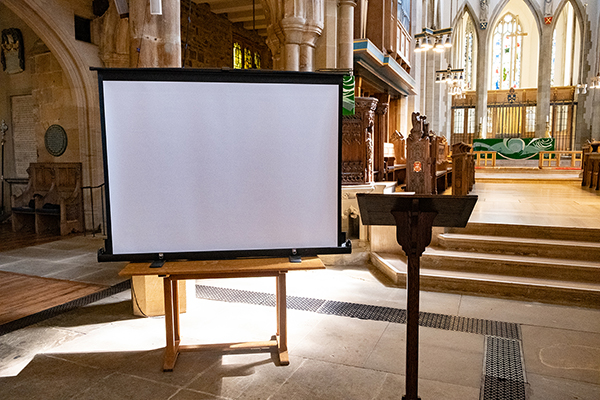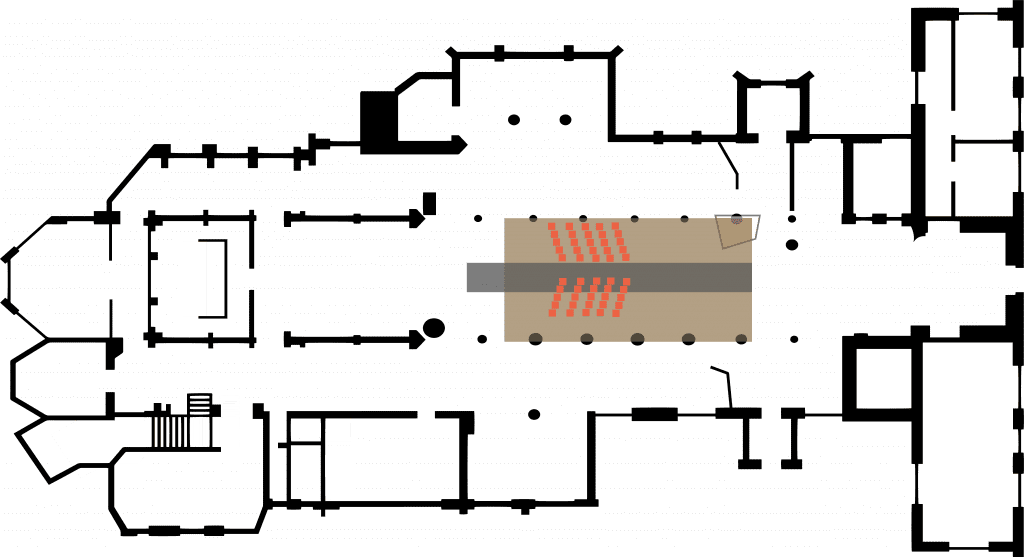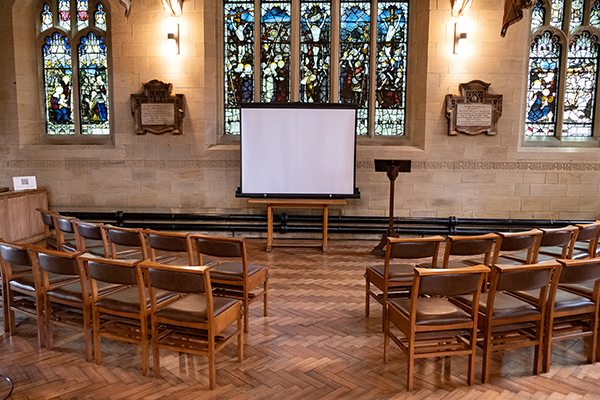 Don't forget that we can also provide bespoke seating, such as those for our Singing Day with John Rutter, held in 2019: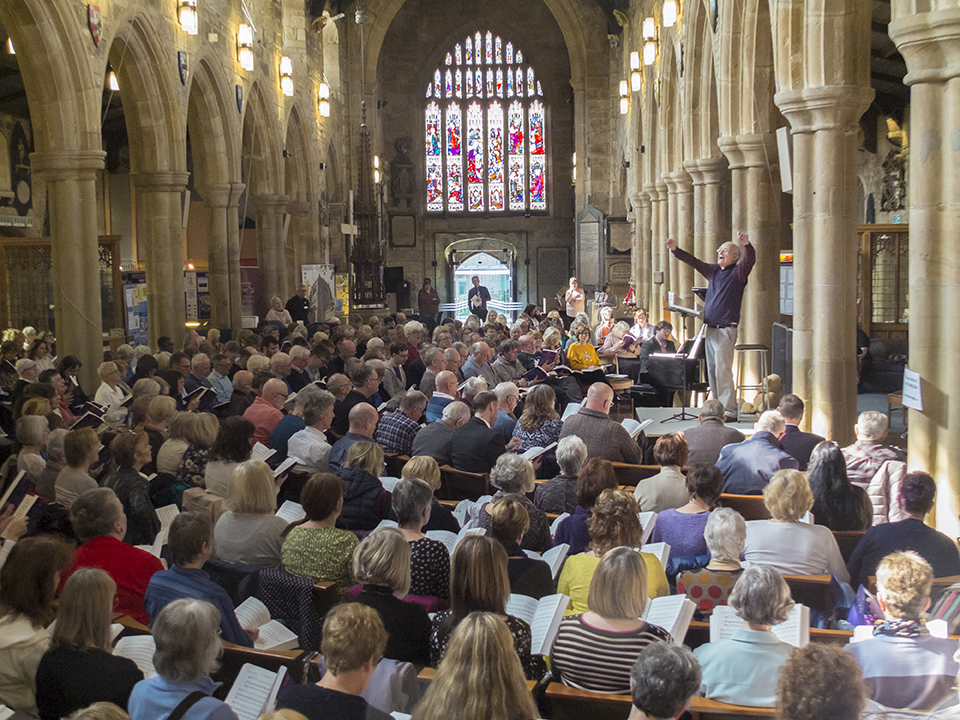 Big Screen
We also have a large 16:9 screen available at events. This can also be combined with 2 x 75-inch TVs on wheels for the side aisles.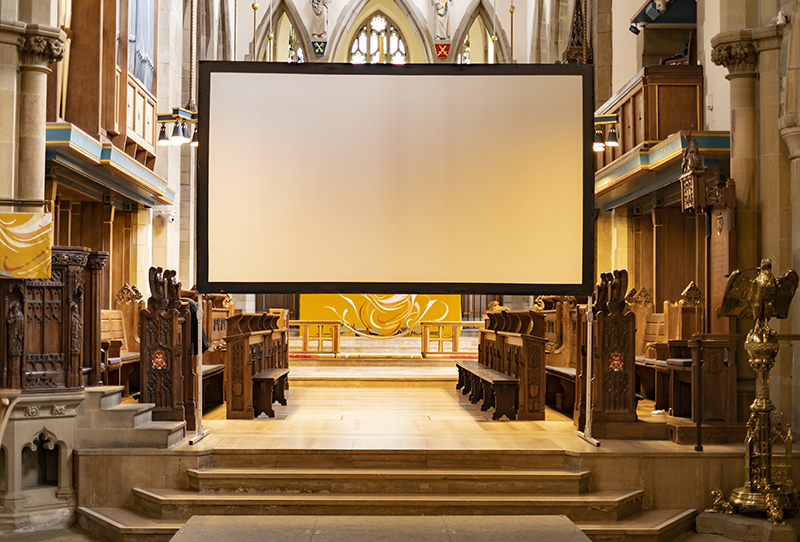 Chapter House
Our Chapter House is available to book for meetings. It includes online conferencing facilities and access to its own private kitchen and toilet.
The main Chapter House is 4.5m x 10m (45sqm) and can hold a maximum of 20 people.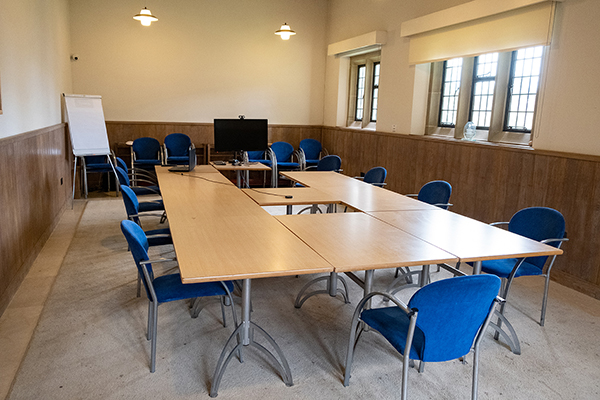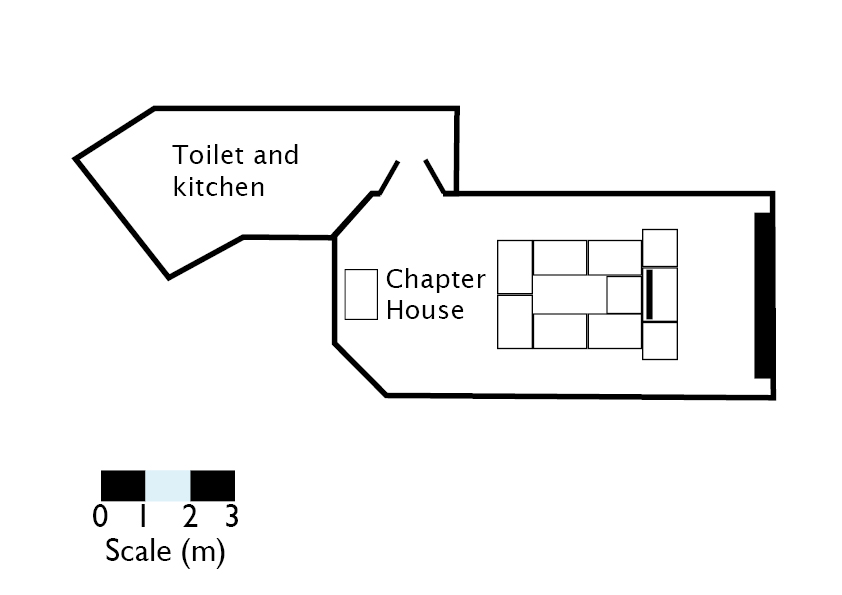 We can also do alternative layouts, such as for discussion meetings in the round.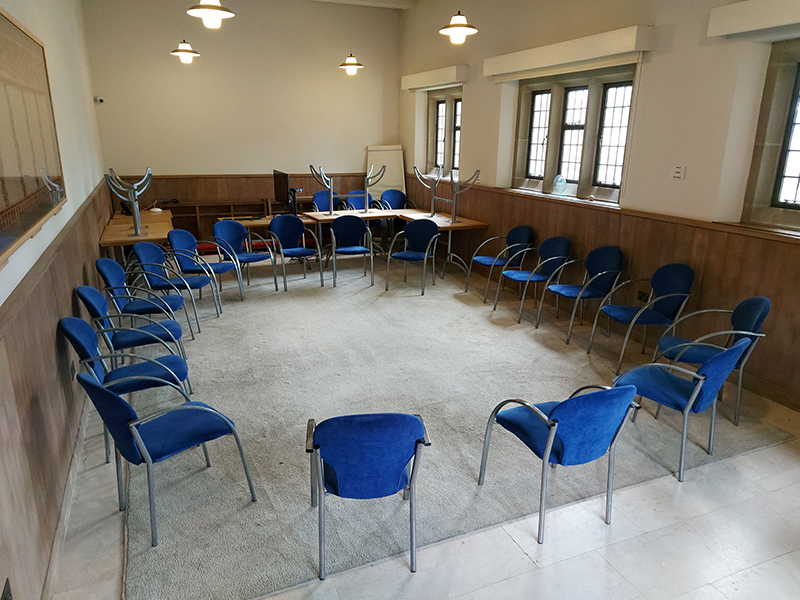 de Lacy Centre
The de Lacy Centre is a self-contained building in the Cathedral grounds complete with two toilets – one disabled / baby-changing – it's own kitchen and a flexible main room, which measures 10m x 6m (60sqm).
The kitchen comes stocked with cutlery, crockery and glasses, as well as an electric hob and oven, dishwasher, fridge, coffee machine, instant hot water and toasters. There is a serving hatch to allow service into the main room
The room comes with tables and chairs – customisable to your requirements – as well as a screen and storage space. The room has two manually closing curtains and two electric-curtains for film screenings and similar events.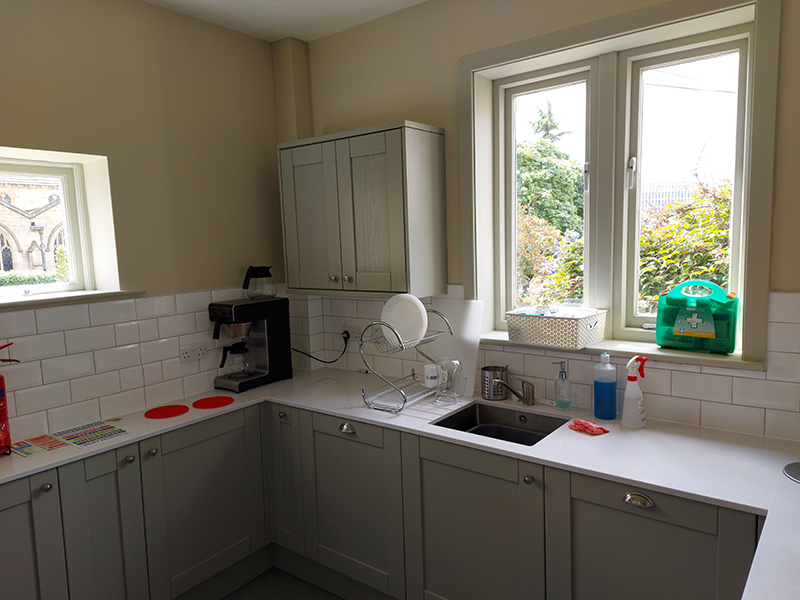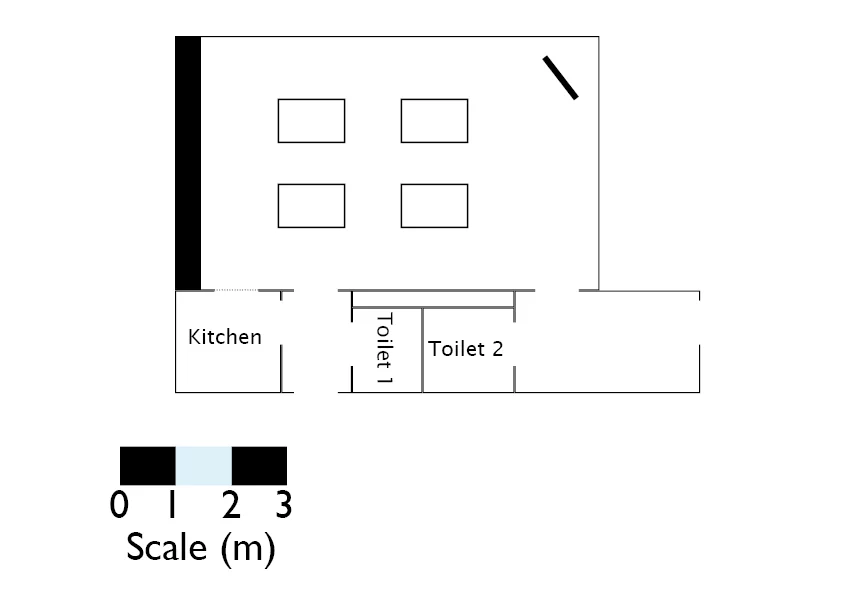 In the Cathedral grounds
You can also hold events and gatherings in the Cathedral grounds. We hold an annual Shakespeare performance in the grounds and others. Please contact us for more information about we can offer in the grounds.