Congregation member Linda Booth was one of five people invited to read prayers as part of a special service held at Westminster Abbey on Armistice Day to mark the 100th anniversary of the burial of the Unknown Warrior
The five prayers were all based around exploring different aspects of life in the past and present, with Linda specifically praying for those who have faced bereavement.
"I was praying for those who have faced the loss of loved ones, and loss of opportunity or livelihood, which at the moment is very pertinent, and for those who couldn't say a proper farewell to their loved ones.
"The service, although it was commemorating something that happened a hundred years ago, was still very relevant for today because of the sacrifices that have had to be made during the pandemic."
Taking place during the latest period of lockdown, the Government gave the service special dispensation to go ahead as it was marking such a significant event, and one that had to be marked on the centenary. It was also marking 100 years since the current, permanent, Cenotaph was unveiled.
The order of service was designed to reflect the funeral of the Unknown Soldier held in 1920 and incorporated the two minutes silence at 11am. It also included a reading from Cerys Matthews; a performance of 'Abide With Me' by singer-songwriter Ruby Turner; and an address from the Archbishop of Canterbury, Justin Welby.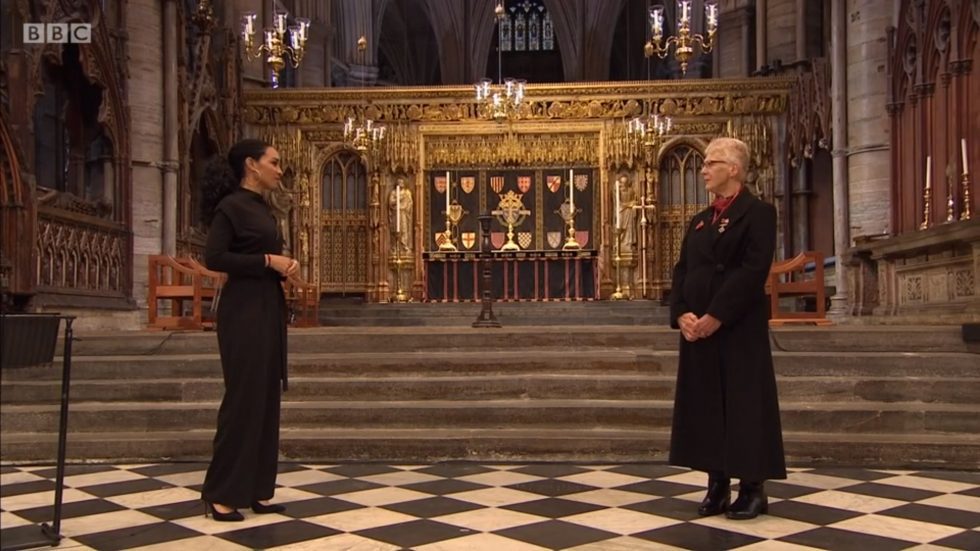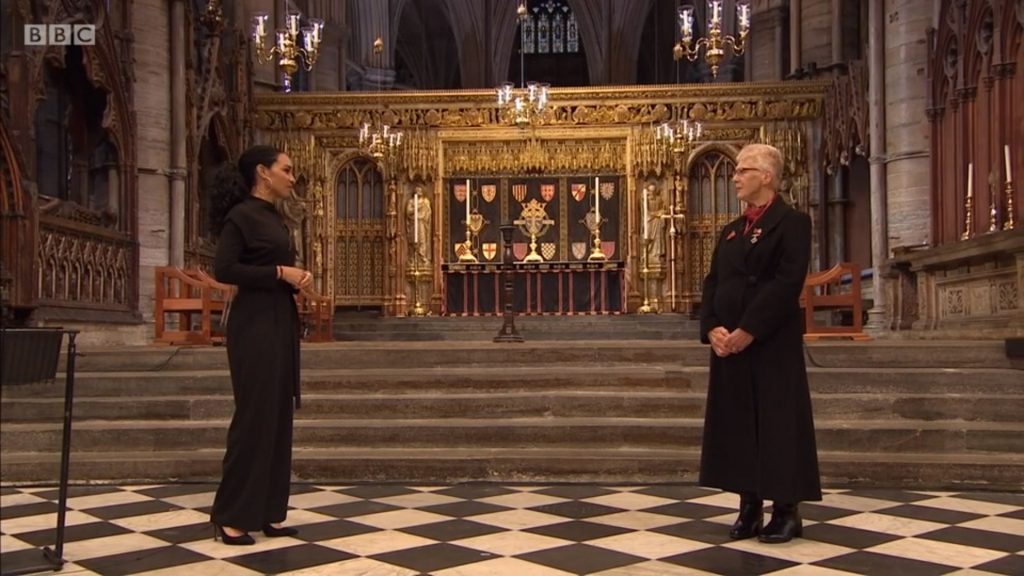 Linda:
"My first husband was a serving Royal Marine when he died. I belong to the Royal Navy and Royal Marines Widows' Association and they were approached to see if they could send a representative, and they asked me.
"I didn't know at first whether to say yes or no, as it felt quite daunting, but then I realised that I would never get an opportunity like this again."
As well as reading one of the prayers, Linda was also interviewed by the BBC's Michelle Ackerley, about her contribution to the service, which was broadcast live on the BBC.
"It was strange being in the Abbey with only 80 invited people there, all physically distanced, but it didn't feel isolating. I felt honoured and privileged to be there. It was an amazing experience."
HRH The Prince of Wales was also present at the event, laying a wreath,
"Prince Charles and Camilla were there but I couldn't see any of that as I was sadly tucked away behind a pillar!"
You can watch the service back on the BBC iPlayer at https://www.bbc.co.uk/iplayer/episode/m000ph0p/unknown-warrior-100-1-live-coverage, with the interview around the 23-minute mark, and the prayer just after 1:04:30