On a bright Bradford morning, William Porter of the Beacon House of Prayer, in Stoke-on-Trent, met up with a group of Christians in the Mirror Pool of City Park to take part in the fifth day of 'Cross Walk 21', an initiative to trace out the shape of the cross in fifty-one cities across England as part of a series of prayer walks.
The Beacon House of Prayer is a fresh expressions ministry from the Methodist church, set up thirteen years ago. Six years ago it became an independent charity, to be a prayer centre for the city and the region. William and his wife, Karen, have been involved for the thirteen years. "We love being in the city, ministering and seeing what God wants us to do at this stage in our lives."
We caught up with William Porter and his friend and colleague Paul Critchley as they met with local Christians in Bradford City Park on Friday 9th July, to discover more about the event.
"We're walking with a nine-foot cross with a wheel on the end as part of a journey in 51 cities in England this July. We're not walking between the cities – that would take far too long! – we're driving between the cities and at each place we're doing around a 3-mile walk in the city centre: we're walking North, East, South and West, in the shape of a cross, as a prayer walk, praying God's blessing on each city at the end of the pandemic.
"We started in Chester a week ago, before going up the north-west as far as Carlisle, past Newcastle-upon-Tyne and down to York. We've done the northern route so far, then had a pause, and now we're in West Yorkshire!"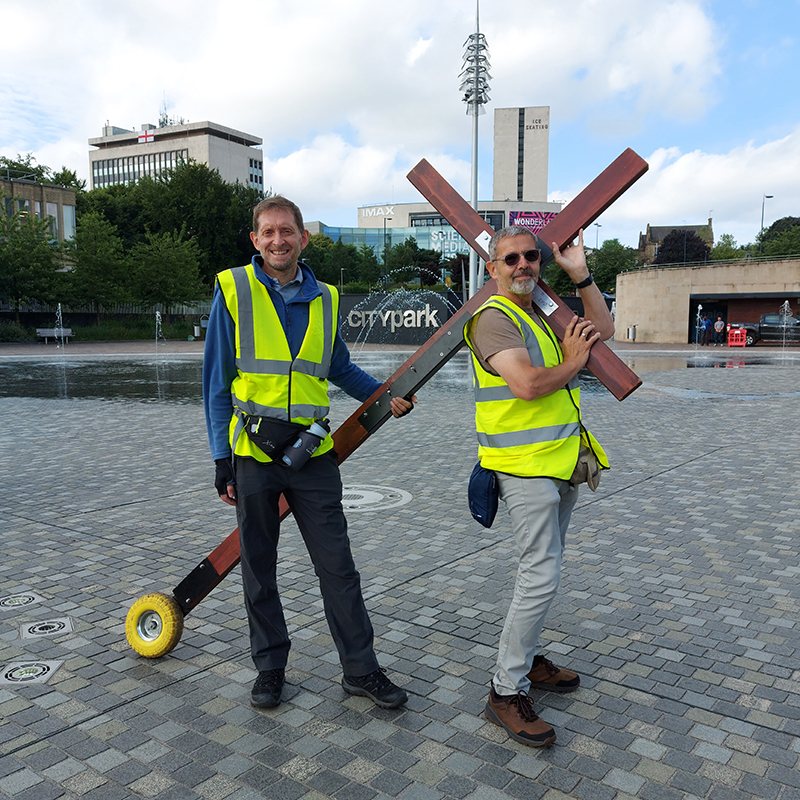 'Cross Walk 21' was inspired by an earlier prayer walk that William initiated, at the height of the Brexit discussions.
"We've done a lot of walking from the Beacon House of Prayer over the years. Eighteen months ago, I did a prayer walk with a cross down to Westminster, London, during the Brexit crisis.
"That situation was a real burden on my heart, praying that God would bring an end to the Brexit conflict and confusion in parliament. And as we walked, we were praying, and just as we got into London the conflict in parliament was resolved, and it felt like that was an answer to our prayer walk.
"After that, it felt that we should do more prayer walking in cities. I didn't have a clear vision at that time, just this feeling of burden during the pandemic, and needing to pray and bring blessings on city centres.
"It seemed that the simplest thing to do was to do this sign of the cross and meet with local Christians."
We asked William what he, and those joining him in each city, hoped to get out of the prayer walks across the country.
"For ourselves it's a wonderful journey. We're discovering city centres that we didn't know before, though we have been to Bradford a few times! I used to be a Methodist Minister here in Holmfirth, so I know this area a little bit.
"For the local Christians we hope it's an encouragement that, as we pray together, we can sense hope and God's future for cities, and we hope that it's a prophetic sign that Jesus is caring for cities, he is caring for communities, and that the heart of God is to bless, and help, and bring hope, so even for those who might just see it as they walk past, might think that 'God is with us'.
"The contrast and the unique characteristics of each city are real highlights for us. We're picking out the city mottos – we're noting those as we walk through.
"Seeing life returning to the cities is a real encouragement; every place we come to, you can see people starting to return, people starting to think – wow – we can get out again. This is all an encouragement to us.
"We know that God has got connections all around the nation, of people in prayer and people in mission, so we can see how God's Holy Spirit activity, how it's moving churches in cities and regions to work together for Kingdom and God's glory."
So, what message would he give to those looking to join in on future walks?
"When you prayer walk, when you walk out of your home or church, into the city, into the streets, you notice things in a different way. You become a bit more alert to the things that God is doing in the heart of a city.
"It stirs your prayer life, and your imagination, and your faith. I would encourage anyone to get together with a couple of Christians and walk and pray in your cities!"
The prayer walks on the Friday continued in Leeds and Hull later that day, with the itinerary continuing through to Thursday 29th July, where the pair return to Stoke-on-Trent, where William will be reunited with his wife, Karen, who will be joining in on that final day of prayer walking in Lichfield and Derby.
You can find out more about the Beacon House of Prayer, 'Cross Walk 21' and how to get involved with future walks – by visiting their website at beaconhop.org/crosswalk21. They also have a Facebook group at facebook.com/groups/beaconHOP