We are excited to have just welcomed our three new choral scholars here at Bradford Cathedral, where they will be spending a year long placement singing with the choir on a weekly basis as well as mentor junior choral scholars and receive monthly singing lessons of their own.
We spoke to each of the three scholars about their background, what they're looking forward to and a bit about themselves. Our first scholar is Sophie, our alto.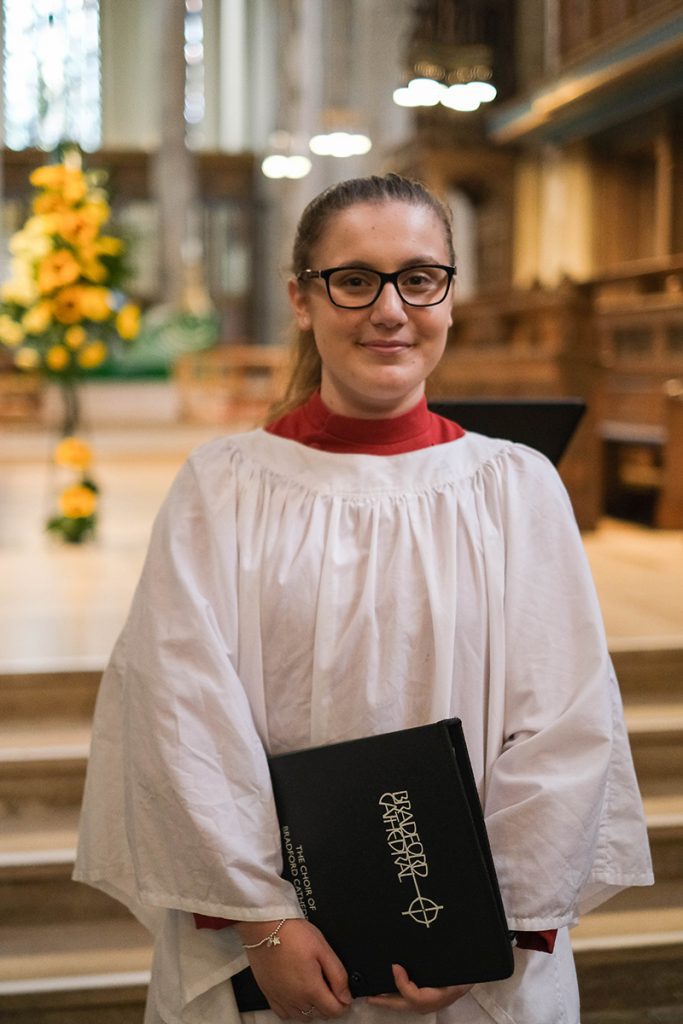 Sophie tells us she first got into music and singing choral music while she was at primary school and "it's everything I do now I'm at uni". Sophie studies music at York university.
Outside of singing, Sophie likes spending time with her family, going out for dinner and "all nice things."
We asked Sophie what it means to her to be one of the choral scholars here, she tells us "just being a part of the church and getting involved in everything, and singing some great music in a lovely building."
When asked what she's is most looking forward to about the year ahead, Sophie says she's "looking forward to everything really, just seeing where this takes me and enjoying being here."
"I'm looking froward to meeting you all at the services and singing with you all while I'm here."
And of course we wanted to know her favourite choral piece to sing, to which she struggles to choose but ultimately decided on 'For lo, I raise up', saying "there's a really good low alto section at the beginning!"
Next we spoke to Ollie, who will be our bass choral scholar.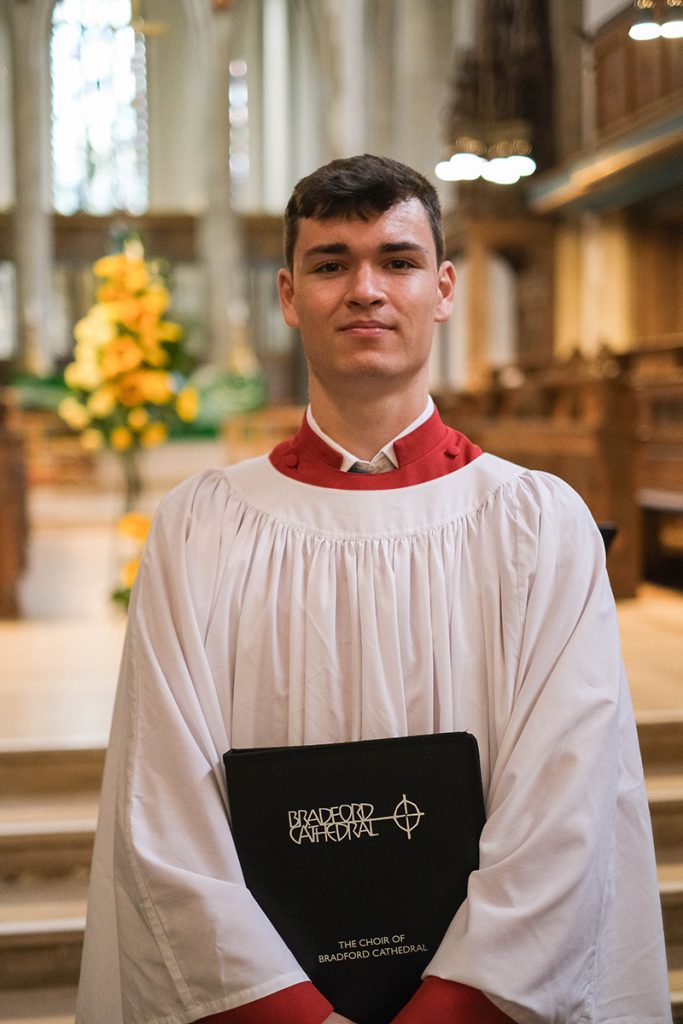 Ollie has been choral signing since secondary school, at about 12, when he joined various children's training choirs including the Hallé Children's Choir and the Youth Choir. Ollie says this "sort of gave me the background of the repertoire and the sort of choral skills I use today, so a huge benefit going into that institution."
From there Ollie went on to take vocal studies at A-level and is now studying music at York university.
In his spare time Ollie also does a bit of fencing, which he really enjoys, and used to play a lot of chess.
"This is my first professional signing position so I'm hugely grateful for everyone supporting this choral scholarship for me. I consider Bradford as much an institution as a job for me, I'm going to learn a whole lot while I'm here, and I really look forward to just soaking it all in and getting involved."
Ollie says he's most looking forward to the teaching that they will be doing with the younger choristers- "I'm just really looking forward to getting to know them and sort of going through the qualifications with them, I think that will be hugely rewarding for me."
To the congregation Ollie says "We're only a part of the choir, which is just one facet of the brilliant atmosphere that you'll find here at Bradford, and I really looking forward to contributing to that in the best way I can."
Ollie's favourite piece of choral music is 'Dream of Gerontius' by Elgar- "I sang it while I was at the Hallé so it's just got a really place for me."
Our final choral scholar is Owen, a tenor.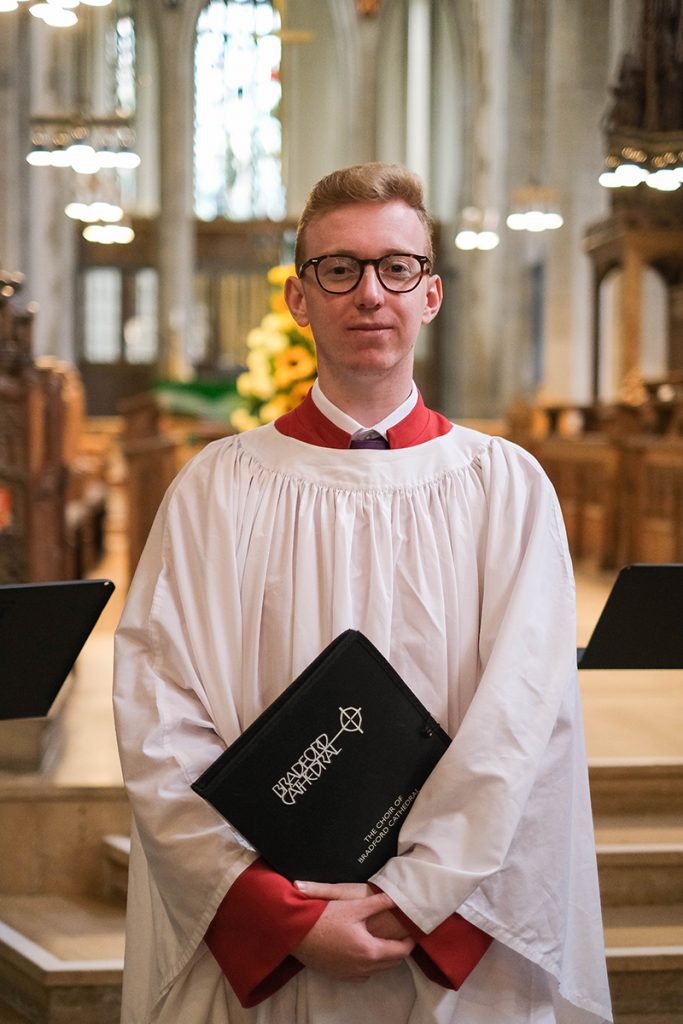 Owen has been doing music for over a decade, starting when he was at school in chamber choir. "I did lots of signing and also played trombone and guitar throughout school."
He then came to York and has just completed his undergraduate degree in music.
Owen has experience with being a choral scholar, having spent a year long residency in Auckland, New Zealand as a choral scholar for their cathedral, as well as having sung at York Minster and St Wilfrid's In York. Owen says "New Zealand was a very interesting experience, straight out of school, other side of the world, sort of dropped in the deep end a little bit but again it was Anglican, lots of great music and met loads of great people."
In his spare time Owen loves cycling, plays quite a lot of squash and does a bit of gaming in his free time, but says he "tends to be doing music a lot of the time!"
"I'm really excited to actually get started, I've done a bit of stuff here over the past few months so I've got to know the place and some of the people already which has been lovely. And it's been, especially with Covid, a long time since I've been back doing church music and I love it so I'm really grateful for the opportunity."
Owen says he's "most looking forward to Advent and run up to Christmas. I love it from obviously a music point of view and just it's Christmas!"
Owen wants to thank the congregation "for being so welcoming so far, I hope to meet everyone in due course but I feel very very welcomed by the community already."
And finally, Owen's favourite piece of choral music is 'Ola Gjeilo arrangement of Ubi Caritas.' He says "For choir and piano, and it's just really beautiful."
We are all looking forward to seeing what our three new choral scholars bring to the cathedral, and hope they feel welcome and enjoy the year ahead with us. You can hear them with the choir at various services.