Bradford Cathedral was invited to join in tree planting at Newhall Park, East Bierley, back on the 27th November 2021, and Mike de Villiers of the Cathedral's Eco Group went to join over 100 community members representing faith communities, youth groups and local residents at Newhall Park on a very cold day.
This event was part of The Queen's Green Canopy (QGC), "a unique tree-planting campaign taking place across the United Kingdom to mark The Queen's Platinum Jubilee in 2022."
The website says more about the campaign:
"With a focus on planting sustainably, The Queen's Green Canopy will encourage the planting of trees to create a legacy in honour of The Queen's leadership of the Nation, which will benefit future generations."
The City of Bradford has been internationally recognised in the first group of six cities in the UK as Tree Cities of the World for its commitment to urban forestry management.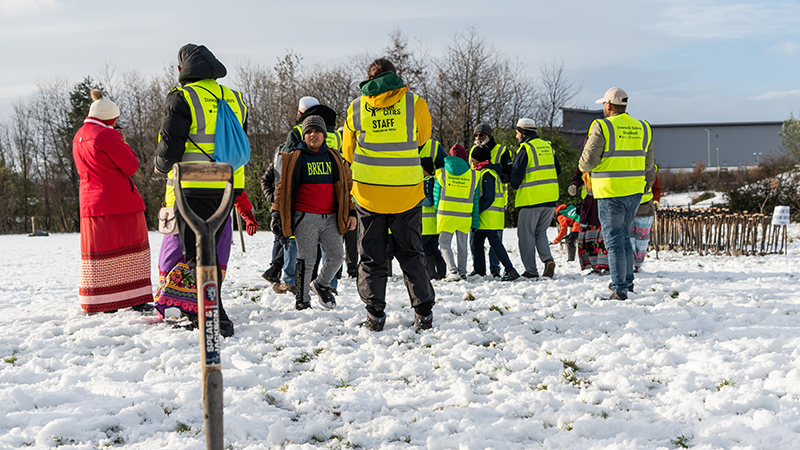 Trees for Cities plans to deliver interfaith Queen's Green Canopy projects in UK cities such as London, Birmingham, Bradford, Sheffield, Edinburgh, Cardiff and Belfast. These will be a demonstration of different faith communities coming together to deliver positive social action and to showcase the powerful galvanising impact of urban community tree planting.
This is the first "Urban Forest" to be created, by planting 10,000 trees on a disused football pitch at Newhall Park.
Sir Nicholas Bacon, Chairman of The Queen's Green Canopy said:
"The Queen's Green Canopy is proud to unveil its first urban forestry project in Bradford, continuing our work to support urban greening in areas of high socioeconomic deprivation and low canopy cover across the UK. Working with Trees for Cities and Bradford Council, we hope to establish a beautiful and sustainable space to connect local people with nature, and create a cleaner, greener, healthier place for residents and future generations to enjoy."
Trees will play an increasingly important role in our city and in our lives. Through the Bradford Cathedral Woodlands Project we now have connections with other projects as well as reducing the carbon footprint of the cathedral.
Thank you to Trees for Cities for the photos and to Mike de Villiers for writing the piece.