On the 40th anniversary of an astronaut's visit to Bradford Cathedral, the Rev. Katherine Pate and Damon Butler explore what they know about the event, and are asking for your memories of it.
On Sunday 16th May 1982, the eighth man to walk on the Moon shared his story at Bradford Cathedral. What brought this astronaut, Jim Irwin, to Bradford? Was there a local connection? Was his talk at the Cathedral part of a larger UK tour?
Those are some of the questions being asked by Damon Butler, a former Cathedral choirboy, who grew up in Bingley outside of Bradford. Butler attended the event as a teenager.
"I remember vividly sitting in the pews near the front as Jim Irwin showed slides and movies from the Apollo 15 mission to the Moon on a projector screen in the chancel," Butler recalls. "His stories about being the first one to drive the lunar rover were my favourite part. After this talk, members of the Cathedral participated in a debate on the ethics of space travel in a world of competing needs."
Damon's mother, the late Jennifer Butler, was an active member of the Cathedral and led a liturgical dance group. She volunteered to be a debate participant, advocating for space exploration in honour of her son's love for all things space-related.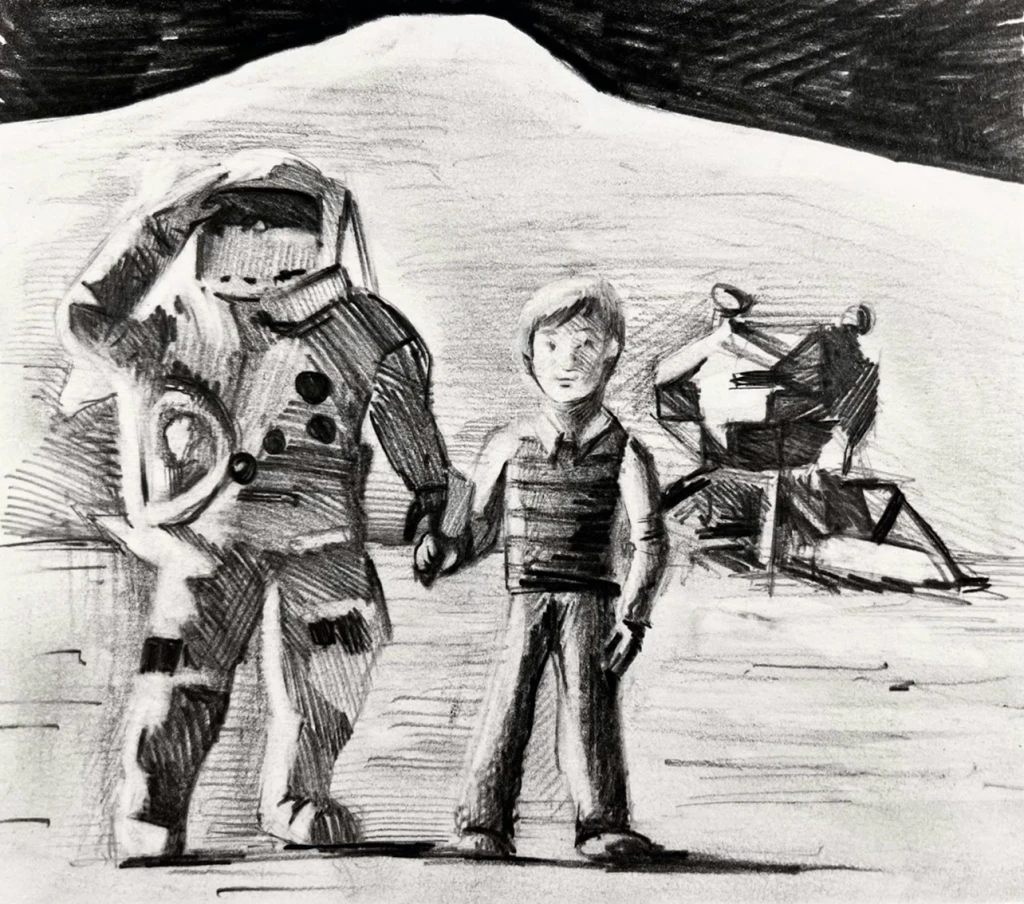 "It meant so much to me that my mum supported my enthusiasm for the Space Programme, and that the Cathedral brought in an astronaut to speak," Butler said. "In those days, I was a paperboy in Eldwick, near Bingley. I was so into space that I even asked people on my route for old newspapers if there was something about the Space Shuttle in them. Eventually, people began saving articles without me even having to ask."
All that research was useful when it came time for Jennifer Butler to prepare for the debate.
"My mum asked for my help in writing her speech, which focused on space exploration as hope for the future," Butler said. "She believed that curiosity was a vital part of what it meant to be human."
Now living in Oregon, in the USA, Butler is an artist. He and his co-creator, the Rev. Katherine Pate, are currently writing and illustrating a story about a boy who loved space and his encounter with the astronaut who visited Bradford Cathedral.
All of the astronauts who went to the Moon considered it a life-changing event, but Irwin's story is particularly unusual. NASA recordings show that he quoted Psalm 121 as he looked out at the Apennine Mountains on the Moon: "I will lift up mine eyes unto the hills, from whence cometh my help." Irwin followed up with a joke, "but of course we get quite a bit from Houston, too." Little did he know of the profound spiritual experience that was to come. As Irwin explored the Moon and conducted experiments, he began to feel a presence was with him. Irwin later interpreted this presence as God.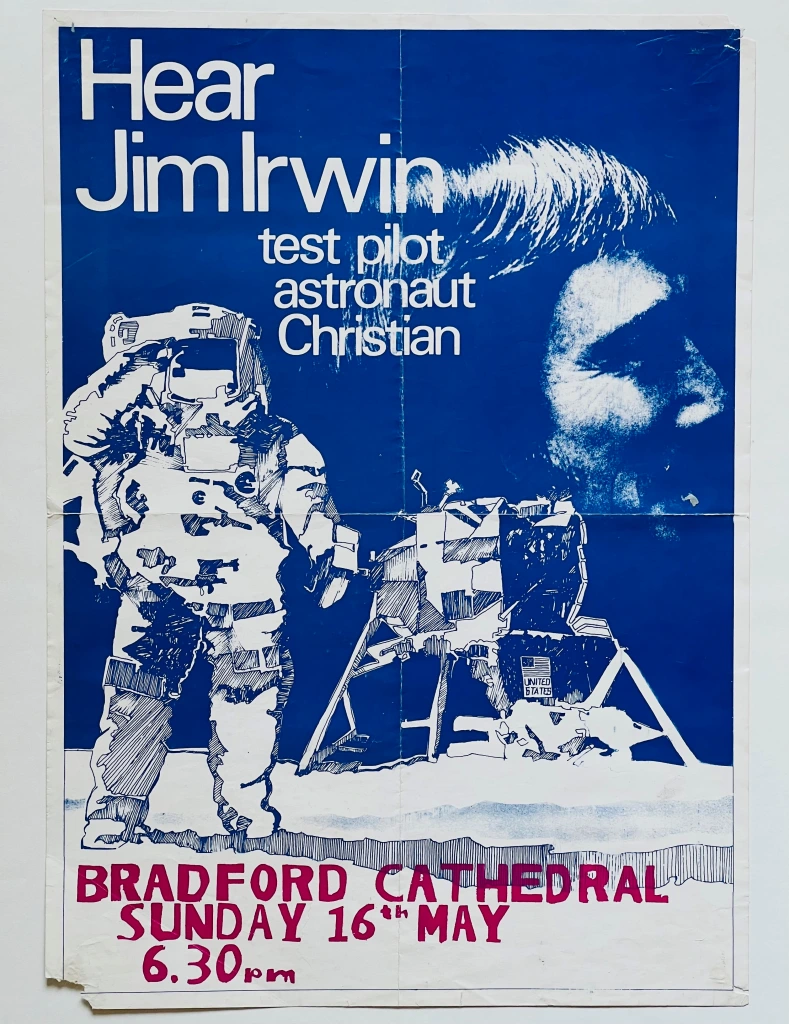 Part of Irwin's mission was to search the grey and largely colourless Moon to find some of the oldest rocks in the Solar System. As he and his crewmate searched, Irwin felt the presence guide him to a pure white rock sitting atop a natural pedestal as though it were on display in a museum. What they found is now known as the Genesis Rock, which is four billion years old, almost as old as the Moon itself.
After Apollo 15, Irwin left NASA and began traveling the world with a new mission in life: sharing his belief that the beauty of Creation reflects the love and wisdom of our Creator. He wrote several books about his life and faith and was passionate about sharing his story with anyone who would listen. This is what brought Irwin to Bradford Cathedral.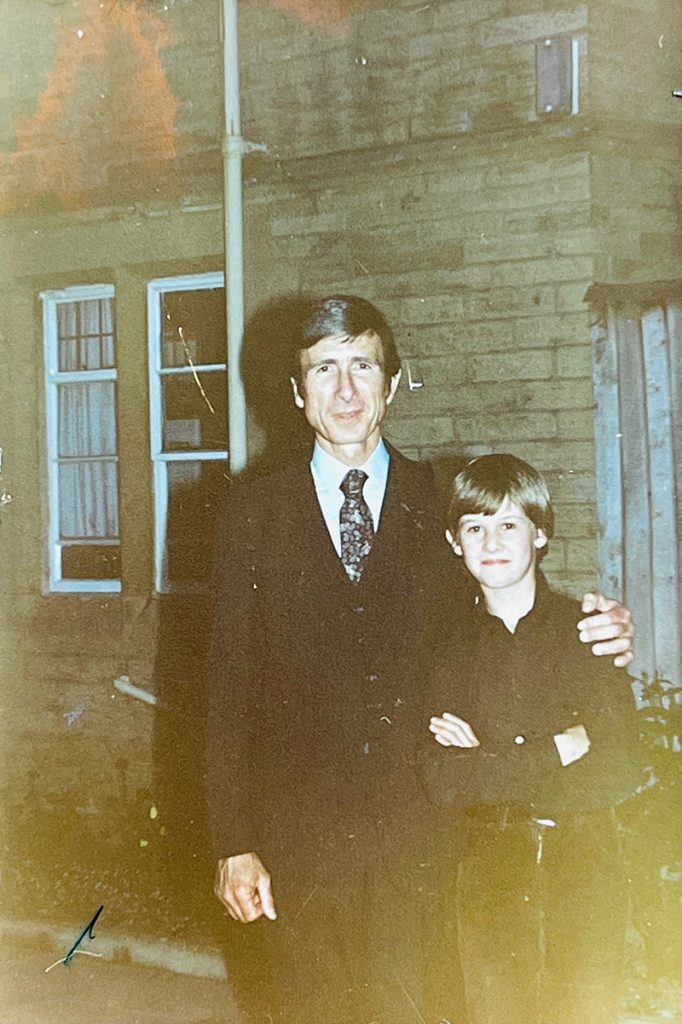 Do you remember this event? Butler and Pate reached out to the Cathedral to find out if any parishioners recall Irwin's presentation and the debate that followed. They would like to hear from anyone who has knowledge of the planning for the event, anyone who participated in the debate, or anyone who has general recollections that might corroborate Butler's account. Any information is appreciated. If you have any memories of this event, you can send them onto the Rev. Katherine Pate and Damon Butler via events@bradfordcathedral.org.