The pupils – from twelve Church of England schools across the District – joined together in the Cathedral for a service of songs, stories and even a magic trick!
Almost 600 pupils from twelve Church of England schools came to Bradford Cathedral on Thursday 7th July to mark the end of their time at primary school, and to look ahead to secondary school in September.
The theme for this year's Leavers' Services was "Journey On!" and the children were welcomed in by the sound of the organ playing journey-related themes – including from Star Wars, Harry Potter, Willy Wonka and the Chocolate Factory, and Doctor Who – as well as by the sight of hundreds of footprints festooned around the nave with their hopes and prayers written on them.
In the weeks before the event, each pupil had been invited to write a hope or prayer on a footprint and these were then decorated and sent to the Cathedral in advance, so that they could be displayed around the building for the services.
There was also music from the Zephaniah Trust, a magician and contributions from Year 6 pupils themselves during the services, which were led by Canon Mandy and involved many members of the Cathedral team.
Dramatized pieces were contributed by Helme Church of England Academy in the morning and St. Oswald's Church of England Primary in the afternoon.
Pupils from St. Luke's CE Primary School, Bradford, wrote and read their own prayers at the morning service and pupils from Shipley CE Primary School wrote and read their own prayers at the afternoon service. It was lovely to see the contributions from so many young people.
Maggie Myers, Director of Education and Visitors, said about the services:
"We were delighted to be able to welcome so many Year 6 pupils, their staff and volunteer helpers from our Church of England primary schools. These were our first Leavers' Services since 2019, which made them extra-special celebrations.
"It was wonderful to see and hear young people filling this building with their enthusiasm and chatter, their hopes and prayers. We wish them all well as they embark on the next stage of their lives and we wish all of our schools a very happy and restful summer break.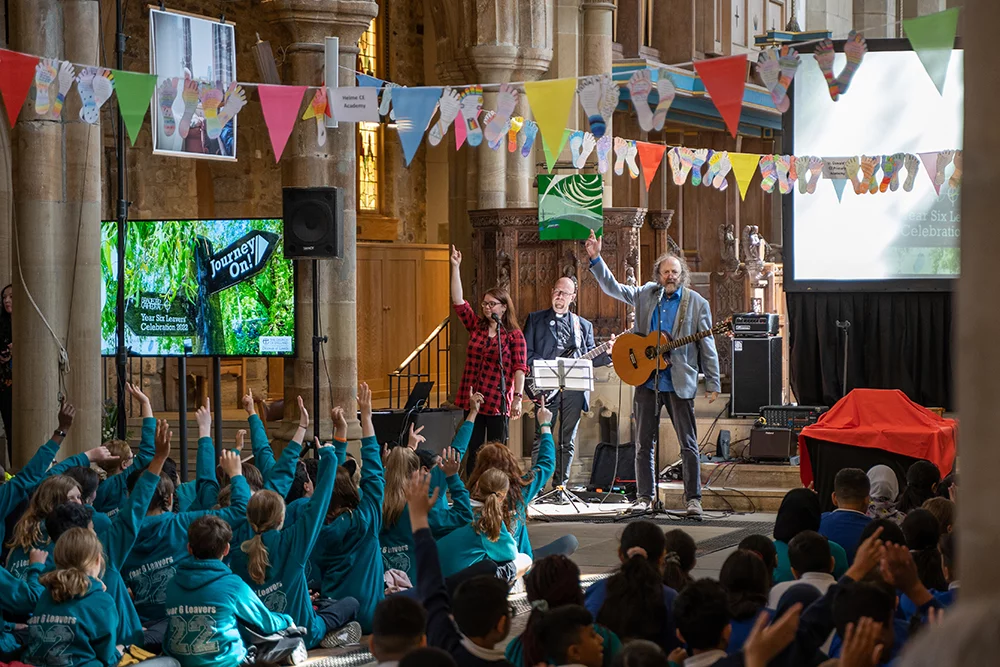 Helme Church of England Academy, said in a Facebook post:
"[It was] A wonderful service at Bradford Cathedral for Y6 leavers from across the Diocese of Leeds, Church of England.
"Our brilliant children led part of the service with their dramatised reading. We are so proud of all our Y6 and are excited about celebrating with them over their final few weeks at Helme."
By e-mail Burley Woodhead CE Primary said: "It was a welcome return to this important transition event."
On Twitter, Westminster Academy said:
"The Year 6 Leavers' Service at Bradford Cathedral was so special and the journey theme so well done. Songs, reflection and celebration"
Wycliffe CE Primary added:
"Year 6 enjoyed the Leavers' Service at Bradford cathedral yesterday. It was great to sing along with Zephaniah and hear stories about journeys – which we will reflect on as we move forward in our journey to secondary school."
Shipley CE Primary School also said:
"Year 6 enjoyed the Leavers Service at Bradford Cathedral yesterday. Thank you."
Other schools that took part were All Saints CE Primary; St. Andrew's CE Primary, Keighley; Woodlands CE Primary; St. John's CE Primary, Bierley and Baildon CE Primary.
Bradford Cathedral holds annual Leavers' Services for year six students. For more information about them or to speak to a member of our Education team about other opportunities, please e-mail education@bradfordcathedral.org.