So what makes a church a Cathedral?
The answer to this is not simple. There are many things that make a church a Cathedral. However the name Cathedral itself comes from the fact that it houses a bishop's throne. The Latin word for this is Cathedra and it is from this object, that a Cathedral gets its name.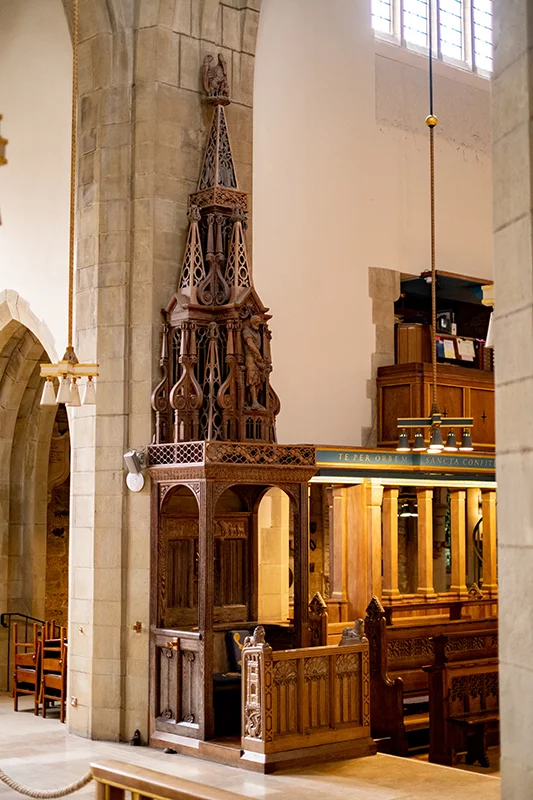 Latin was originally the liturgical (religious) language used in a churches by nuns, monks and priests who were part of the Western tradition. The Western Church had its roots in Rome in the 4th century BCE and the Roman Catholic Church was often described as the 'Latin Church'. It wasn't until 1539 when King Henry VIII of England, decreed that the Bible in English, should be available to everyone in every church in England, that English and not Latin became the official language in churches in this country.
Originally the church on this site would have been a Catholic, Latin church, but it became a Church of England during the reformation in the 16th century. From 1662 until the 1820s, it was technically illegal to subscribe to any form of Christianity other than that upheld by the Church of England. However many sacred objects, signs and symbols and texts around the building are Latin or derived from Latin. For example the Cathedra and the name of the building itself Cathedral.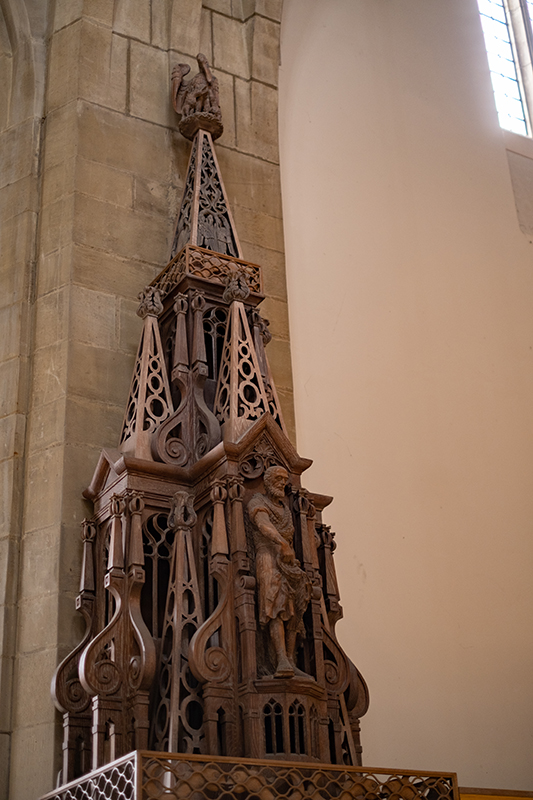 In 1919, a new diocese of Bradford (an area containing many churches) was created and the ancient Parish Church of Saint Peter, became Bradford Cathedral. The Cathedra was given to the new Cathedral by the people of the Ripon Diocese, to which the Parish Church of St Peter used to belong. It is adorned with a figure of St Peter, depicted as a fisherman and has a pelican on the top (a really old Christian symbol of giving and service). On the end is the bench is a carving of the bell tower, beneath which is a serpent and a rock, another reminder that Jesus said that Peter was the rock on which he would build his church (Matthew 16:18) and that the gate of hell will not prevail against the church.
The first Bishop of Bradford was the Right Reverened Arthur William Perowne. He was 'enthroned' in November 1920. In the Church of England a bishop is a man or a woman who is a priest, but who has responsibility for all the churches in an area, (diocese), the people who worship there (congregations) and other clergy (priests) who work in the churches. The Bradford Diocese is now part of the Leeds Diocese, which goes as far north as Scotch Corner and as far west as the borders of Cumbria.