Christians have worshipped on the hillside where the Cathedral now stands for over 1,300 years.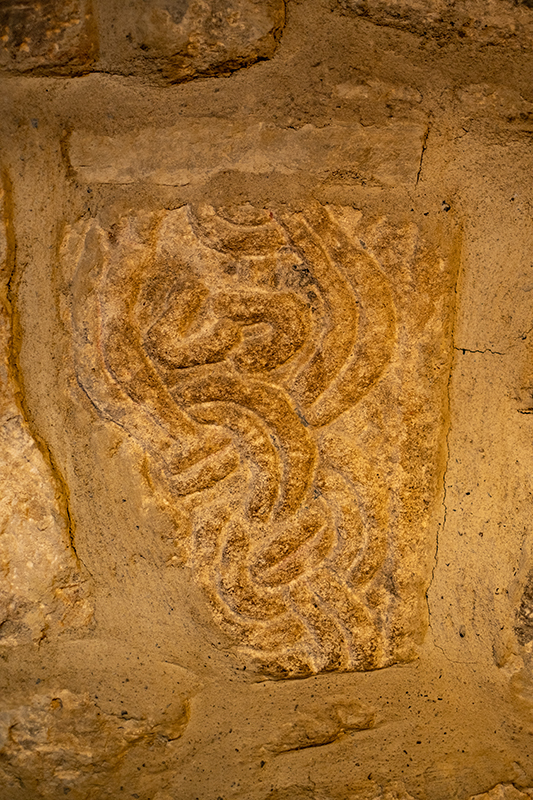 The Cathedral is located on a hill that was once covered in trees, overlooking a crossing place or ford over the Beck, a river that still runs in culverts beneath the City streets. Even in pre-Christian, Pagan times people may have come here to worship, as wooded areas, rivers and streams were often regarded as sacred.
People first came to this broad ford to cross the river. It became a popular meeting place, goods were traded here. People started to live near the broad ford and from the earliest times they came here from faraway places. It was the broad ford that gave the area the name by which it is known today 'Bradford'; a name first mentioned in the Domesday Book in 1086.
Today if you look closely in the Cathedral near the old spiral staircase, opposite the pulpit, you will see a fragment of a Saxon preaching cross. This was found during renovation work and 'recycled' by the builders. A second fragment may be found in the wall outside St Aidan's Chapel. These fragments provide evidence that people came to the broad ford to listen to priests explaining the 'Good News' and telling stories from the Gospels, as long ago as the 7th century.
The first church on this site was probably built out of wood, for the Norman Lord of the Manor of Bradford, Ilbert De Lacy, in the 11th century. This was later replaced by a stone church which was destroyed by fire, probably by Scottish raiders in 1327. The church was rebuilt over the next 100 years or so and was completed in 1458. A stone tower was added and finished in 1508. The church and tower became a permanent visual symbol of the presence of Christians in Bradford from this time onward. Today this ancient place of worship is home to a thriving Christian community, but is also a place of welcome people of all faiths and none.
The fragment of Saxon cross, may have come from a cross similar to this one, which was located outside what is now All Saints Parish Church in Ilkley.