Windows on the world.
The East Window
The glass of the East Window was originally installed In 1863. It was a seven-light window, commissioned for the then Parish Church of St Peter (now the Cathedral) by Mrs. Richard Tolson in memory of her late husband a Bradford solicitor who died in 1847. John Aldam Heaton, suggested that the glass should come from the recently-established workshop of Morris, Marshall, Faulkner & Co. in London (though this was to be only their third commission).
The window is the work of several artists. Morris himself designed the angels, in addition to several of the figures, the rest of the work being completed by his associates, Edward Burne-Jones, Ford Madox Brown, Dante Gabriel Rossetti, Peter Marshall and Philip Webb.
Jesus, was in the upper centre light, surrounded by four lots of figures representing, the women who who tended Jesus, the four Gospel writers (evangelists) Matthew, Mark, Luke and John (with their symbols: Matthew, an angel; Mark a lion; Luke, a winged ox, and John, an eagle), the Patriarchs, and the Prophets who foretold Jesus' coming were also represented. The right hand of Jesus Christ was raised in blessing and the left hand holds a golden orb surmounted by a cross. This is the work of Rossetti. The patron saint of the Cathedral, Peter, designed by Peter Paul Marshall, was in the lower part of the central panel.
When the old chancel was demolished in 1958 it was decided that the glass in the east window was to be re-used in the new Lady Chapel. Three windows were now made, a centre one of three lights, with a two-light window on each side in. The alterations involved 30,000 pieces of glass and were carried out by E. Pickett & Co., Hunslet Road, Leeds.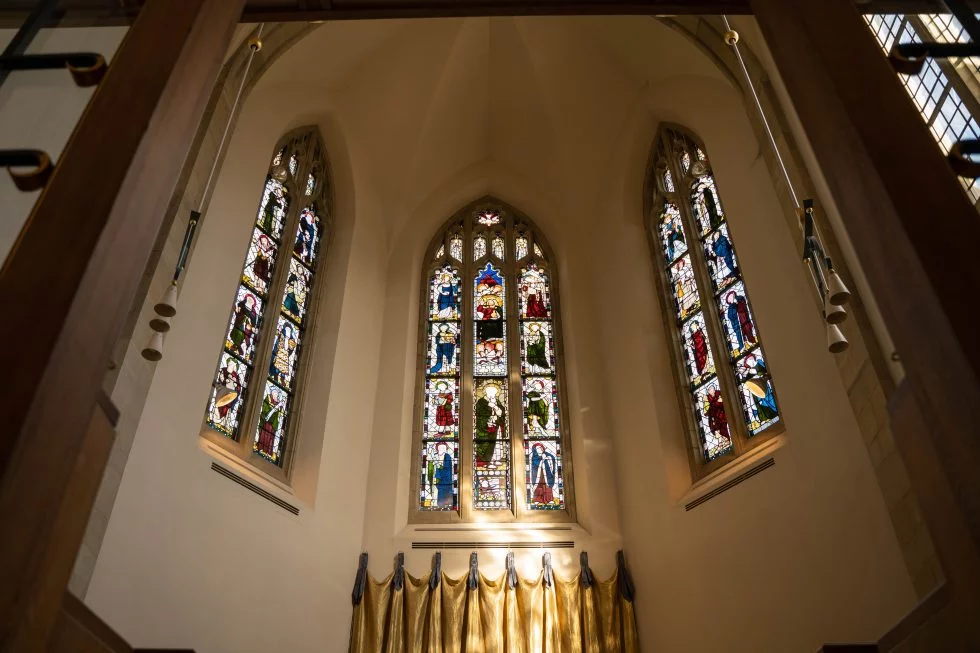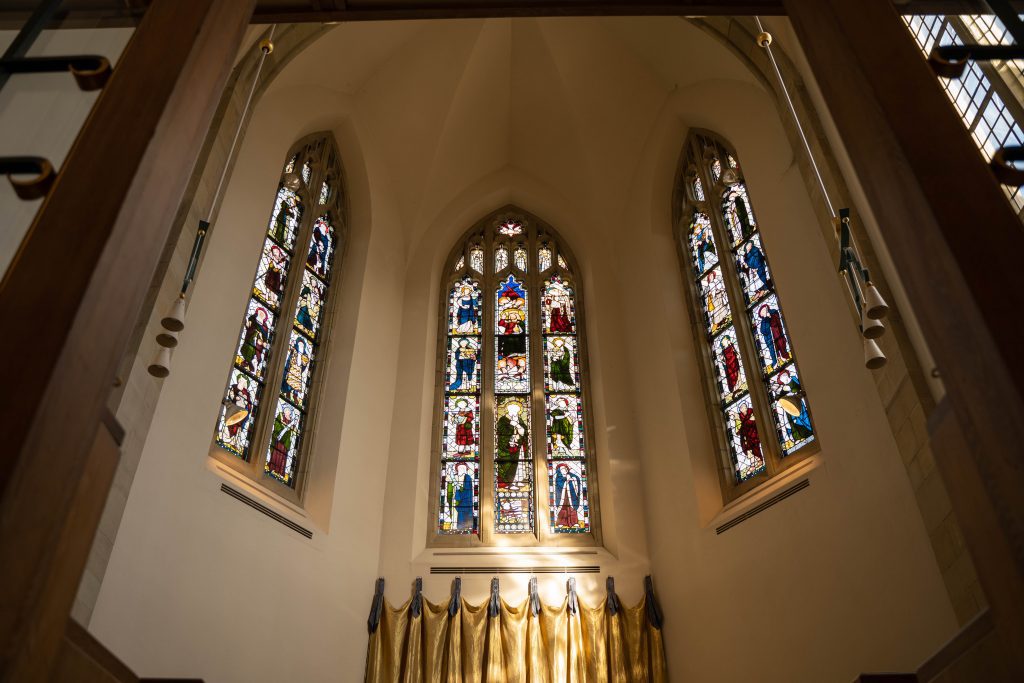 The current window shows the following.
Lowest tier: Prophets
Moses Tablets of stone marked I-X; 2 horns
Isaiah Scroll: 'unto us a child is born, unto us a son is given'
Jeremiah scroll 'Thou wilt return Israel'
Ezekiel prayer and hood
Daniel
Elijah Raven and bread
Abraham Knife and small son, Isaac
Old Isaac Blessing and wooden vessel
Jacob, can and smoke, pouch
David, crown, chain mail, no shoes, dove, harp
Solomon, crown, blessing and sceptre
Joseph of Nazareth, bare feet, staff, cloak.
Second tier: Patriarchs
Abraham, knife and small son, Isaac
Old Isaac blessing and wooden vessel
Jacob, pan and smoke, pouch
David, crown, chain mail, no shoes, dove, harp
Solomon, crown, blessing and sceptre
Joseph of Nazareth, bare feet, staff, cloak
Third tier: Evangelists
John the Baptist
Matthew, winged man, blessing Mark, winged lion and book, scroll
Luke, winged ox
John, eagle
Paul scroll and seal , broad sword.
Top tier: Women
Anna the prophetess, stars
Elizabeth and son
John the Baptist, stick, cross, berries and leaves
Virgin Mary book, Madonna lily, long fair hair, halo
Mary Magdalene, long hair, jar
Martha copper pan, wooden spoon and leather bottle
Mary of Bethany, long fair hair, book, spray of leaves.
Centre panels, from the top:
Christ in Majesty
St Peter
Agnus Dei Lamb of God
Tracery:
Dove descending
Heads
Seraph arms folded
Seraph hands up
Angel with scroll
Minstrel angel with T shaped dulcimer
Minstrel Angel singing from scroll
Seraph arms folded
Seraph hands up
Archangel Michael
Archangel Raphael
Minstrel angel with T shaped dulcimer
Minstrel angel with double pipe
Archangel Uriel
Archangel Gabriel
Pattern work
All the work produced in Morris's workshop was carefully documented and thus we know who was responsible for individual parts of the window . Morris himself designed the angels, which originally occupied three tiers. Rossetti designed Christ in Majesty and Mary Magdalene, whose costume he was asked to redraw, as the first version was considered too daring and inappropriate!
The North Ambulatory Window
Another Morris window was originally, installed in 1864, on the south side of the chancel. It was given in memory of Mary Hartley who lived in York, but had been born in Bradford. She died in August 1862.

Originally this window had a centre panel containing Jesus (as Salvator Mundi, saviour of the world), in a green cloak and white robe, standing with his right arm raised, holding a Latin cross. Beneath this figure was Philip Webb's design of a pelican feeding its young. There were four saints on either side of the centre panel, two to each light: Stephen, Barnabas, Andrew, Jude, James the Less, Cyprian, James the Great and Alban.
When it was moved during the extension of the Cathedral in the 1950s, the window was put into storage some of the glass was damaged. It has now been restored and some is situated in the North Ambulatory, the rest in the west walls of the transepts.
The North Ambulatory window is illuminated from behind and central figure is, Salvator Mundi, by Albert Moore. The angels in this window, some playing harps and dulcimers (a stringed instrument a bit like a zither), others holding palms, wreaths and chaplets, were originally fitted into the tracery at the top of the old window, and were designed by William Morris. The Pelican feeding young, was designed by Philip Webb.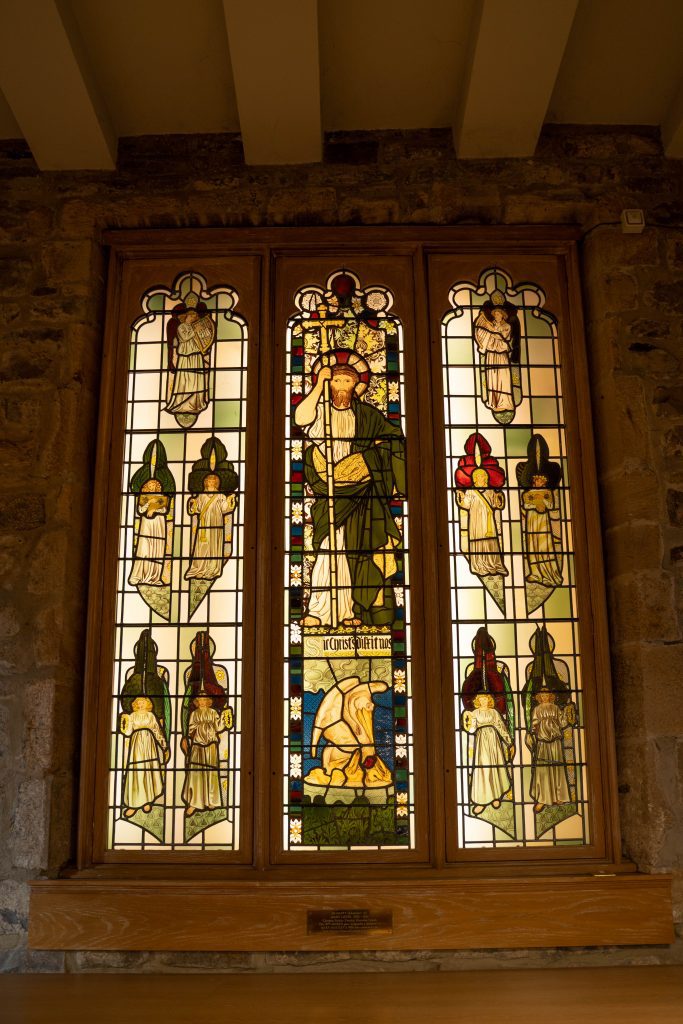 The glass was refurbished in 1991 by York Glaziers Trust and re-positioned in 1992, as a memorial to historian and Cathedral archivist, Mary Lister.
1985 in volume 1, pp. 56-61, of the third series of The Bradford Antiquary, the journal of the Bradford Historical and Antiquarian Society.