Discover more about Bradford's Astounding Astronomer Abraham Sharp as the Cathedral opens its doors for a space-themed open day. The free event – which includes tours, a talk and a space-themed organ recital, plus the chance to take a solar system selfie – takes place on Saturday 22nd October from 12noon.
Bradford Cathedral is opening its doors on Saturday 22nd October for you to discover more about Bradford's Astounding Astronomer and Mathematician Abraham Sharp.
The open day takes place from 12noon – 3:30pm and includes a talk from Rod Hine of the Bradford Astronomical Society at 1pm and a space-themed organ recital, with pieces from popular TV shows and movies, at 2pm from Bradford Cathedral Assistant Director of Music Graham Thorpe and organist Anthony Gray. There are also tours of the Cathedral – the first is at 12:15pm with a second at 2:45pm.
Alongside these events there will also be space-themed children's activities running all the way through; the chance to see Abraham Sharp's monument in the Cathedral; and the opportunity to explore the building.
Also in the building will be an inflatable solar system for you to discover how far apart the planets would be if the solar system was crammed into the Cathedral, as well as other discoveries by Abraham Sharp including his calculation of pi. Refreshments will also be available.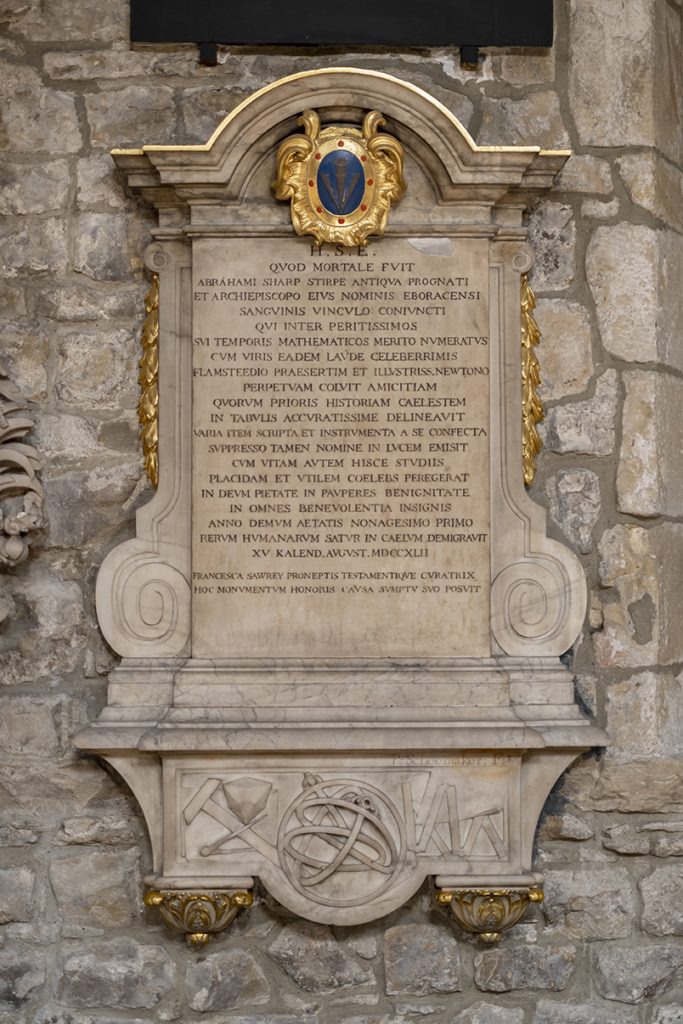 Maggie Myers, Director of Education and Visitors, says:
"We're delighted to be showcasing Abraham Sharp, a fascinating mathematician and astronomer who was born in 1653 in Little Horton and went on to be the assistant to the first ever Astronomer Royal, Flamsteed, among other achievements.
"You can also take a guided tour of the Cathedral or wander around at your leisure. There will be children's activities and many outstanding historical and heritage features to enjoy. We'd love to see you!"
Rod Hine from the Bradford Astronomical Society, says:
"My aim in this talk is to describe Abraham Sharp's life and work as astronomer and mathematician set in the context of the times. The seventeenth century saw amazing advances in astronomy and other sciences, and Abraham Sharp was at the centre of work at the Greenwich Royal Observatory upon which so many later discoveries were based. You don't need any special knowledge of astronomy as I shall be explaining everything as we go along."
The event is free to attend, and you can just turn up to explore the Cathedral and take part in the children's activities, but free tickets are available to book for the tours, recital and talk, and booking is advised to avoid disappointment.
Peter Marlow – The English Cathedral
Alongside the open day, our current exhibition 'Peter Marlow – The English Cathedral' will also be available to view, and features photographs of all 42 English Cathedrals, plus the chance to get involved with your own photography – through recreating Peter Marlow's image on our 'photo spot' to taking your own instant photo of the building.
To find out more about this event, and to book your free places on the tours, recital or talk, please visit abraham-sharp.eventbrite.co.uk
ENDS
Notes for Editors
Please note: this event is the rescheduled 'Heritage Open Day' event postponed from early September due to the death of Her late Majesty Queen Elizabeth II. Due to the event now not falling with the Heritage Open Day period, that branding can no longer be referenced in relation to this event.
About Bradford Cathedral
Bradford Cathedral is a hidden jewel waiting to be discovered. Set in tranquil gardens we are Bradford's oldest place of worship and house the story of the City.
We are an Anglican Cathedral, holding services, events and educational visits.
We are open Mon – Sat 10am – 4pm for visiting and prayer. Discover our Morris & Co textiles and stained glass, and monuments marking Bradford's history.
Visit us online for more or call 01274 77 77 20.
• Welcome to Yorkshire 'Small Visitor Attraction of the Year' 2020
• Eco congregation status
• Council for Learning Outside the Classroom Quality Mark
• Museums+Heritage Awards 'Best Use of Digital – UK' (2022, shortlisted)
For further information please contact:
Philip Lickley, Communications, Marketing and Events Officer
t: 01274 777722
e: commsandevents@bradfordcathedral.org
About the Bradford Astronomical Society
The Bradford Astronomical Society are a friendly group of people who all share a common interest in the universe and its many wonders. Some are more interested in observing using either the societies or their own telescopes and equipment, whilst others are more at home with the study of various aspects of the technical side of astronomy.
Whatever your interest may be, and no matter whether you are an expert or a complete beginner you will be made most welcome.
You can find out more at bradfordastronomy.co.uk