The VR experience – which premiered at the 2022 Sundance Film Festival – comes to Bradford Cathedral from the 14th – 19th November.
Bradford Cathedral will host animated VR docu-drama Child of Empire from the 14th – 19th November (except the Tuesday), during its daily opening hours of 10am – 4pm. The experience is the latest event in the Cathedral's Artspace programme.
Child of Empire is an animated virtual reality (VR) docu-drama experience which immerses viewers in one of the largest forced migrations in human history: the 1947 Partition of India and Pakistan.
The film takes audiences through a deeply personal perspective of this epic historical event. Two men from the Partition generation — Ishar Das Arora (voiced by Adil Hussain), an Indian Hindu who migrated from Pakistan to India, and Iqbal-ud-din Ahmed (voiced by Salman Shahid), a Pakistani Muslim who made the opposite journey — share childhood memories of their experiences while playing a board game. As the two men unpack their memories, audiences embody the experience of a 7-year-old child at key points in the migration. Child of Empire offers a powerful counter-narrative that lends a fresh perspective on the effects of forced migration on everyday individuals.
The VR experience will be set up in the Cathedral's North Transept, where visitors can use one of five VR headsets to experience Child of Empire. There will also be additional information stands and interactive maps to flesh out the story.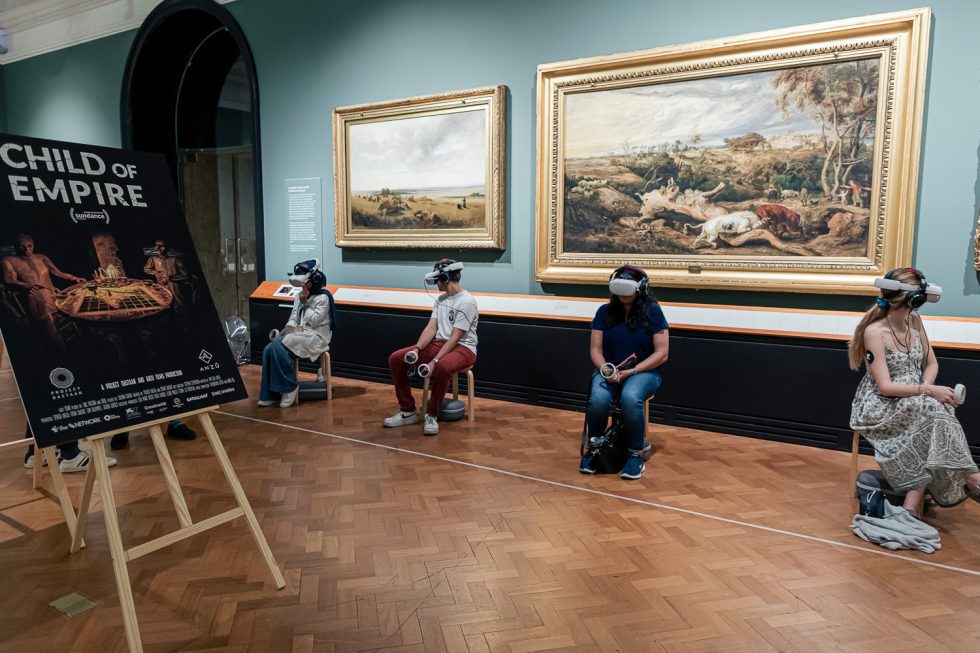 Sparsh Ahuja, the film's co-creator, says:
"75 years after their migrations, Partition remains a deeply personal experience for my two grandfathers (Ishar and Jagdish) who directly inspired this film. By highlighting the similarities of migration journeys on either side of the border, Child of Empire is a reminder that it is ordinary people that suffer the most when nationalisms are created and torn apart by political elites.
"This film is a challenge to the divisive communalism that unfortunately plagues the subcontinent today. As a child of diaspora, I have come to understand that the important stories of migration are not those of the politics that dictate it, but the people it uproots."
The Revd Ned Lunn, Interim Canon Missioner and Chair of Artspace, says:
"Bradford Cathedral is excited to welcome this innovative storytelling project as part of Interfaith Week. We, at the cathedral, have a proud history of inviting and promoting marginalised voices and hosting healing conversations between cultures.
"As we look ahead to City of Culture and develop the Artspace programme to present more projects with the same boldness and creativity we are grateful that this sets such a high precedent for all that will follow."
Closing event
As well as being open for the five days, there will also be a chance to experience it at a closing event on Saturday 19th November from 7pm – 8:30pm, where there will also be a showing of three short films Lost Migrations.
Lost Migrations is a three-part animated anthology that explores the memory, loss, and trauma that accompanied the Partition of British India – the largest forced migration in recorded history – through the voices of the colonised.
Each 6–8-minute episode focuses on a community that has been excluded from South Asian historiography: women, the stateless, and the diaspora. The anthology is a cross-border collaboration between Project Dastaan, Bangalore-based studio: spitting image, and Lahore-based studio: Puffball.
All are invited to this closing event, and refreshments will be served ahead of the event from 6:30pm.
For more information, please visit bradfordcathedral.org.uk/artspace, where you can also sign up for the closing event.