Bradford Cathedral will be running two events in March for Fairtrade – a breakfast and a Big Brew – with proceeds going to support the work of Transform Trade.
The annual Fairtrade Fortnight runs from the 27th February to the 12th March, and Bradford Cathedral is supporting it by hosting two events and a special photo competition.
On Sunday 5th March they will be holding a 'Fairtrade Breakfast' from 9am, ahead of that morning's main Eucharist service.
The sixth annual Fairtrade Breakfast returns after a two-year absence. The event will see those taking part sharing fellowship over a simple but delicious breakfast of Fairtrade and local food and drinks. You can come and sample Fairtrade muesli, jam, marmalade, tea and coffee, locally made honey and butter and other goodies.
There is a suggested donation of £3 per person to cover costs, with profits going to support the work of Transform Trade (transform-trade.org). Those interested in joining can book their place via the cathedral website, or at the Fair Trade Stall, which will be open after the Eucharist on the 26th February – or just turn up on the morning.
On the following weekend Bradford Cathedral will be holding their second annual 'Big Brew', after the morning Eucharist, which will feature readings, music and a sermon connected to justice.
The Big Brew is a nationwide event from Transform Trade – formerly Traidcraft Exchange – the
campaigning organisation that Bradford Cathedral supports with the profits from our Fair Trade stall, which will be open again on this day and stocked with a range of great products.
Revd Ned Lunn, Canon for Intercultural Mission and the Arts, says:
"This year FairTrade Fortnight is focused on climate justice, a topic that is very close to our heart at Bradford Cathedral. One of God's first commands to humanity was to care for Creation, and we continue to strive to be faithful to that call in working with others to care for our planet and environment.
"We repent for the part we and our wider society impacts the climate and causes brothers and sisters across the globe to suffer unduly with the effects of our choices. This year we want to acknowledge the complex ecosystem of our world and how we are connected to a global community.
"In the Anglican Church we are privileged to know and serve alongside others, particularly in the Global South where climate change is felt most acutely. We stand with them and hear their stories to enact change in our lives."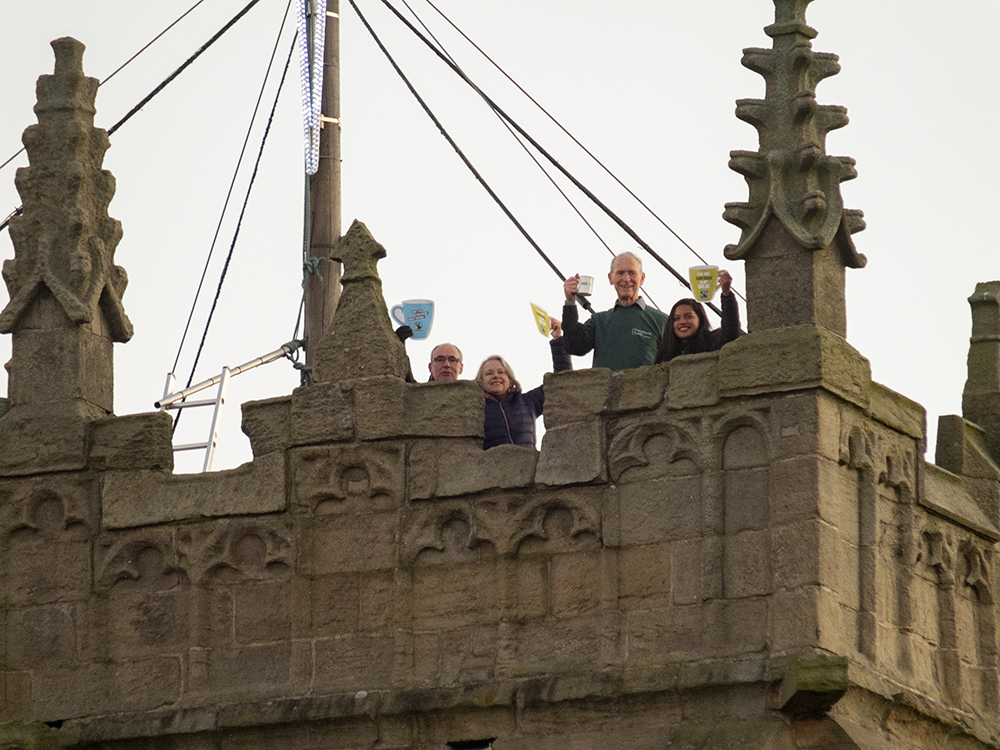 Ahead of these events, Bradford Cathedral has also launched an #ExtremeBrew photo challenge, and to launch it they sent some of their brave EcoGroup members to the top of the Cathedral tower to enjoy a Fairtrade cuppa.
But – of course – we know you can do better!
A Bradford Cathedral spokesperson said:
"We're looking for photos of your Fairtrade cups of tea, coffee, hot chocolate or another brew in a mug, in an unusual or amusing setting – and you can share them with us ahead of the Big Brew using #ExtremeBrew on Twitter or Instagram, or by e-mailing them to events@bradfordcathedral.org
"Obviously, please don't do anything dangerous / illegal in the pursuit of your unusual drinking location! We look forward to seeing what you come up with…!"
CEO of Transform Trade Charlotte Timson invites everyone wanting a fairer world to attend or support Bradford's Big Brew:
"We love the sound of what Bradford Cathedral has got planned! Big Brews are great fun whilst raising funds for a crucial cause. The fight for trade justice is needed now more than ever. Let's make it the biggest Big Brew ever!"
You can join in with the Fairtrade Breakfast on Sunday 5th March from 9am and the Big Brew on Sunday 12th March from 11:30am, following the Fairtrade-themed Eucharist which starts at 10:30am. This service is also streamed live. You are also invited to join in with the #ExtremeBrew challenge, running now through until the 12th March. To find out more about all this – and to book your place for the breakfast – please visit bradfordcathedral.org.uk. You can find out more about Fairtrade Fortnight at fairtrade.org.uk/get-involved/current-campaigns/fairtrade-fortnight/ and Transform Trade at transform-trade.org.