Artist Simon Rice has brought his four-years-in-the-making composition The Deposition of Christ to Bradford Cathedral this Lent. Ahead of the painting being installed ready for Ash Wednesday, we caught up with Simon to find out more about him as an artist, the painting itself, and what he hopes people will get from it. We began by asking him about his artistic journey.
"Back in the 1970s I went to art school for a few years but then I dropped out, and subsequently had other careers before I managed to get early retirement in my mid-50s, to try and have another go at art.
"I'd always worked on painting and sketching in my spare time, but I knew I had to explore doing something with my art, so I took myself back to art school in London for a couple of years.
"I studied portraiture, and when the course was over, I decided that I needed to set myself a challenge, otherwise my time in London would become, I suppose, like a dream that never happened.
"I decided to paint something far bigger than I'd ever done before, and with no time limit, which is how the idea of The Deposition of Christ came about.
"Quite why I chose a religious subject, I don't know. Though I go to church, I'm not a hugely religious person."
The idea for the painting came from Simon exploring the countryside.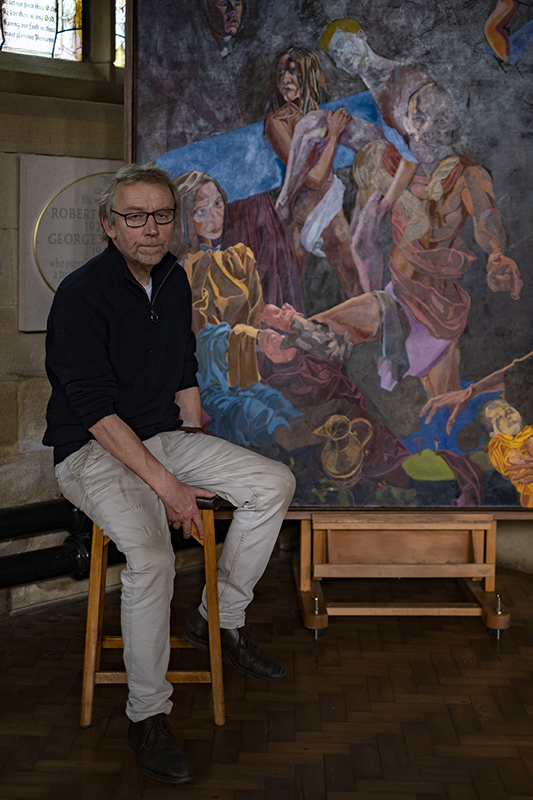 "I came across this old barn, and I imagined it as a nativity scene – and this connected up when I found a painting by an Italian painter called Fiorentino of the Deposition – taking Christ down from the cross – and I found that much more exciting and vibrant than the nativity, so this became the basis for the painting."
We next asked Simon to give us a flavour of how The Deposition of Christ progressed.
"The painting went through many changes. I had an original idea for the composition of the figures and I started painting them in, but it got stuck. I wasn't necessarily unhappy with the way it looked, but the painting wasn't going anywhere. In the end I grafittied it: I basically took a big brush of black paint and daubed 'Xs' all over it.
"This was a really liberating move in respect to the painting. I knew it was now going somewhere, though I didn't know where, and I was just putting on layer upon layer of glazes, making it darker and darker.
"It might sound melodramatic, but it was like the original idea had disappeared and been replaced by something else, and then gradually the figures came back in a different guise – and now they were acceptable to me and I could carry on with the painting.
"I was trying to let the painting lead me, and my job was not to compromise on it, and if something wasn't working, I had to go back and re-do it. And if something had a fake feeling to it – like I was doing something to impress – then that had to go. I had to be quite ruthless.
"From that point it flowed much more, and I knew I was on the right track.
"To me, this process was essential, otherwise it would have been a semi-phoney painting, done to try and impress people rather than to do the best that I could."
When creating the painting, Simon used models and tailor's dummies rather than photographs to work from. We asked him whether this was a creative choice.
"I'm not a fan of using photographs to create figures on canvas – it just doesn't work for me – so I had to get models in for each of the figures.
"When you're trying to draw the drapery and the clothes – some of them on the painting are quite elaborate – you can't have a model sat there, hour-after-hour, whilst you're drawing the creases – so I did use a tailor's dummy – and made some dummies myself – to try and then lay the clothes and drapes on them, so I had time to work on them.
"Likewise with the models, I did drawings of them and transposed them onto the canvas, as the size of the canvas made painting directly onto it quite difficult."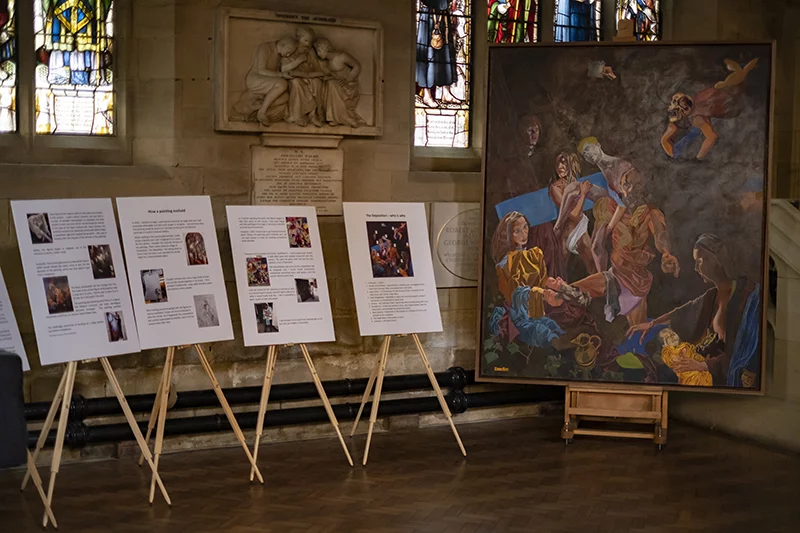 Alongside the finished artwork, storyboards documenting the process will be on display.
"This wasn't intended," Simon confessed, "but one of the things about modern life is everyone having a camera phone, so I instinctively took pictures along the way, so when it was done, I thought it would be nice to tell the story.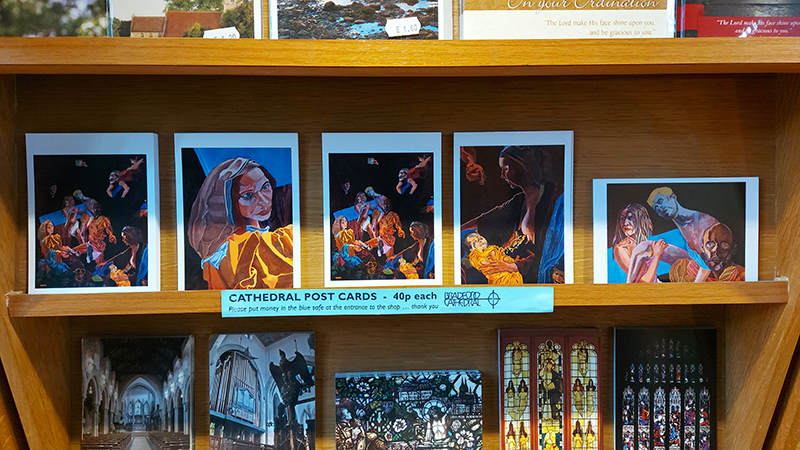 The painting will be displayed in Bradford Cathedral from Ash Wednesday through to Good Friday, when a reflective event will be held. We asked Simon for more on this closing session and what it will consist of.
"That's still under discussion and Canon Ned is leading on that, but I imagine it will be similar to what we're talking about now: discussing the painting, but with more of a religious / Christian / spiritual side to it.
"I don't put it out as a Christian painting – even though it is of a scene from the Bible. At the end of the day, it's a painting and it's open to what people see in it.
"It's also possibly slightly risqué to some people who are Christian maybe. I imagine that a debate will come out of this reflection."
We finished the interview by asking Simon what he hopes those who see the painting will get out of it.
"I don't know if I hope anything. When I had it up in my studio and people came in, I pressed them to stay there for ten minutes to look at the painting, otherwise it won't be worthwhile. But if you can look at it, and engage with it, it may make you feel something.
"Some people will look at it and won't feel anything at all. But hopefully for some people it might say something. I also think that, if you're standing in front of a piece, it's a physical action. I'm encouraging people to get up close to the canvas, to look at the brush marks and the paint. The paint is already four years old and maturing and mellowing.
"It's a physical experience as well as an emotional experience."
The Deposition of Christ by Simon Rice will be on display at Bradford Cathedral from Wednesday 22nd February (Ash Wednesday) through to Friday 7th April (Good Friday), and you can view it, and the accompanying storyboards, in the north transept. You can also join the artist and Canon Ned Lunn to reflect on the painting as part of 'Good Friday Devotions: Preaching the Cross' from 12noon to 1:30pm on Good Friday.
You can find out more about Simon Rice by visiting his website at ephraimriceart.co.uk