May is National Walking Month – discover how you can get involved this year
The annual National Walking Month takes place in May and there are many walks, trails and pilgrimages that you can take part in during the month, and throughout the year.
The pilgrimages, which are gathered together on the Bradford Cathedral website, include local routes from Halifax Minster and Dewsbury Minster, plotted by the British Pilgrimage Trust, and a 12-mile Dales Way Link to Ilkley.
There is also the 42-mile Yorkshire Heritage Way, a beautifully scenic route that takes walkers to Ripon Cathedral, and can be done in stages. Copies of the guide to this route are available from the Bradford Cathedral shop, and from its website.
For those looking to stay locally, there is the 'Tranquillity Trail' which is just over 5k and takes in some peaceful areas of the city in a circular route just north of the Cathedral.
There is also the Fair Trade Way that starts at Bradford Cathedral and goes to the Fairtrade towns of the Bradford District. This route celebrated its tenth anniversary in 2022.
Alongside these walks which can be done at any time, Bradford Cathedral is also the final stop on the monthly 'Bradford Faith Trail', which takes place on the first Saturday of each month from March – October, taking in five places of worship over five hours.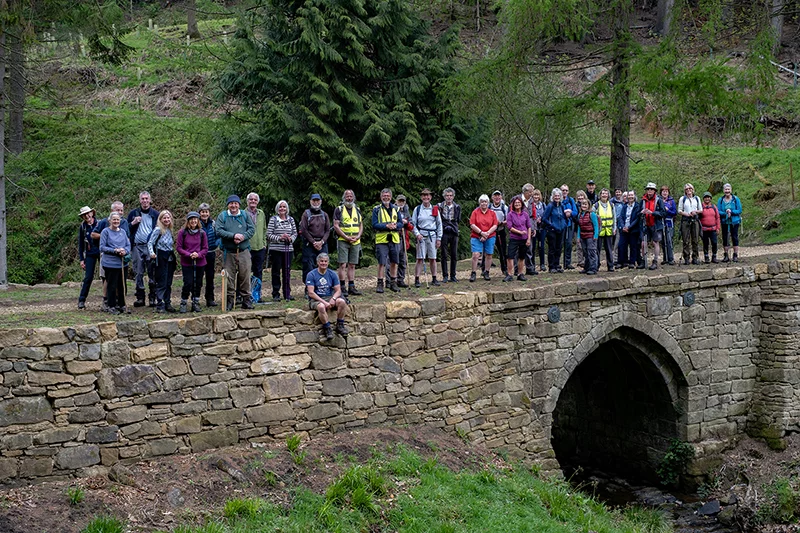 Dawn Champion, from the British Pilgrimage Trust, says:
"Pilgrimage is known to have a range of positive impacts beyond just physical health. It combines the benefits of being in nature, exploring heritage, physical activity and social contact. All of these are known to have positive effects on our mental wellbeing, reducing stress and loneliness, and generating stronger creativity, self-esteem and confidence. A practice with deep cultural roots, participating in this ancient tradition allows you to find personal meaning in your journey.
"We almost all have at least one question we want answering, something we want to bring into our lives, or let go of. Set this as an intention for your pilgrimage and what you will discover, think and feel will soon resonate with it. You may find the path, holy places, nature, and conversations with strangers bring you to quite a different place, both in the land and in yourself, forging a deeper sense of connection than before."
A spokesperson for Bradford Cathedral says:
"Whether it's for National Walking Month, during the summer months, or elsewhere in the year, there are many beautiful walks, trails and pilgrimages that you can take part in, with different ones to suit different levels of experience and ability."
Keep pilgrims can also pick up a 'Pilgrim Passport' from the Bradford Cathedral shop, with each Anglican cathedral in England offering a sticker and stamp for those visiting. Can you collect them all?
And for those who prefer to travel on two wheels, there is also the Cathedrals Cycle Route, with a planned route available between all the English cathedrals. Look out for more on the Cathedrals Cycle Relay for 2023 soon.
For more information on the walks, trails and pilgrimages around Bradford Cathedral, please visit bradfordcathedral.org.uk/pilgrimages; for the Bradford Faith Trail head to bradfordcathedral.org.uk/faith-trail; and for more information on walking around the Bradford District, please head to visitbradford.com/things-to-do/great-outdoors/walking.
You can also find out more about the British Pilgrimage Trust at britishpilgrimage.org and the Yorkshire Heritage Trail at burleybridge.com/yorkshire-heritage-way.html