Very soon the Bradford Cathedral choir will be travelling down to London to embark on their latest exciting choir tour – and for the duration of the tour (Friday 2nd June – Sunday 4th June), there will be a running blog on Bradford Cathedral's website and updates on social media.
Previous tours include Germany and East Anglia, and it's a chance for their choir to get experience of singing in other churches and cathedrals, as well as to have fun and take part in some exciting activities.
Graham Thorpe, Assistant Director of Music at Bradford Cathedral, says:
"We're really looking forward to this year's choir tour to London.
"Over three days, we are packing in a very busy schedule, singing at St. George's, Hanover Square, All Saints', Tooting and Southwark Cathedral. You can tune into the live services which will be shared on the Cathedral's social media!
"As well as singing, we are doing several activities, including going to the Natural History Museum, attending a concert at the Royal Festival Hall (Dennis and Gnasher! – Unleashed at the Orchestra) and going on the cable car, directly beneath the London City Airport flight path. It's going to be an action-filled weekend, particularly after battles with train strikes…"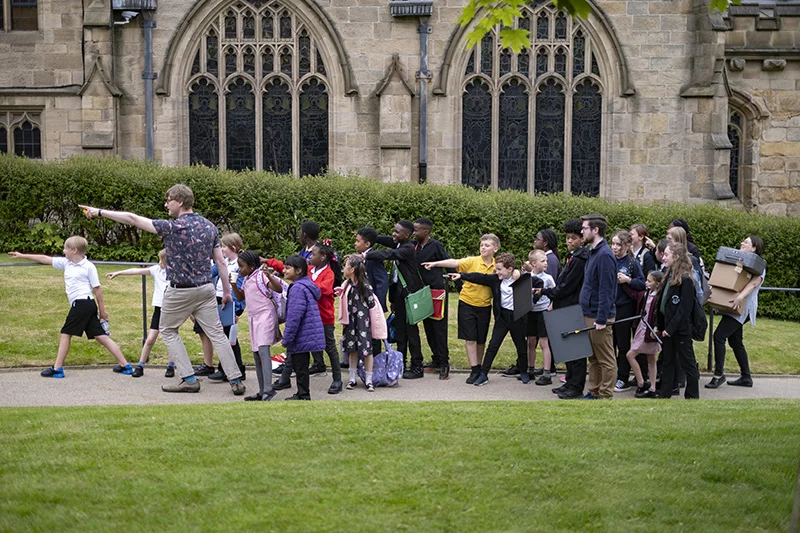 Kicking off the first day of the tour, there will be time to learn and relax at the National History Museum, before making the journey to St George's, Hanover Square. Whilst there, our choir will be singing Choral Evensong, which will start at 5:30pm. Repertoire will include Ives' Listen Sweet Dove, Rose Responses, Psalm 145, Kelly in C, and Parry I was glad.
Matthew Turner, verger at St. George's, says:
"St George's Hanover Square has a long-established musical tradition and history, stretching back to our earliest days when Handel himself was a prominent parishioner. We are looking forward to welcoming the choir of Bradford Cathedral to sing Evensong with us and form a part of this great living tradition of offering worship to Almighty God through music and praise in this place."
You can check St George's, Hanover Square's Twitter for updates.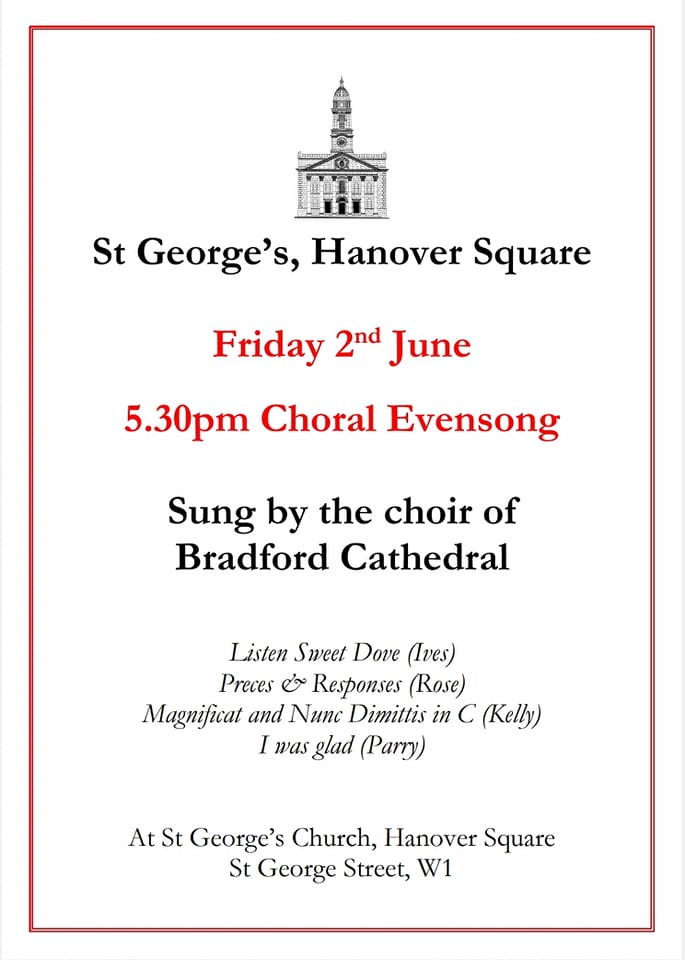 The choir's next stop is to All Saints, Tooting, but first, there will be time for sightseeing! There will be stops at Shakespeare's Globe, the Tate Modern, St Paul's Cathedral, the National Theatre, the Royal Festival Hall, and a chance for ice cream at the OXO Tower.
At 4pm, the choir will sing a Festal Evensong for the Eve of Trinity Sunday, with members of the All Saints choir. Repertoire will include Rose Responses, Howells' Collegium Regale, and Stainer I saw the Lord.
Revd Mae Christie, says:
"We are thrilled to be hosting the choir and very much looking forward to getting to know them as well as having the joy of listening to the music at Evensong!"
You will be able to view a live stream of the 4pm Festal Evensong on All Saints, Tooting's Facebook page.
They also have accounts on Twitter and Instagram.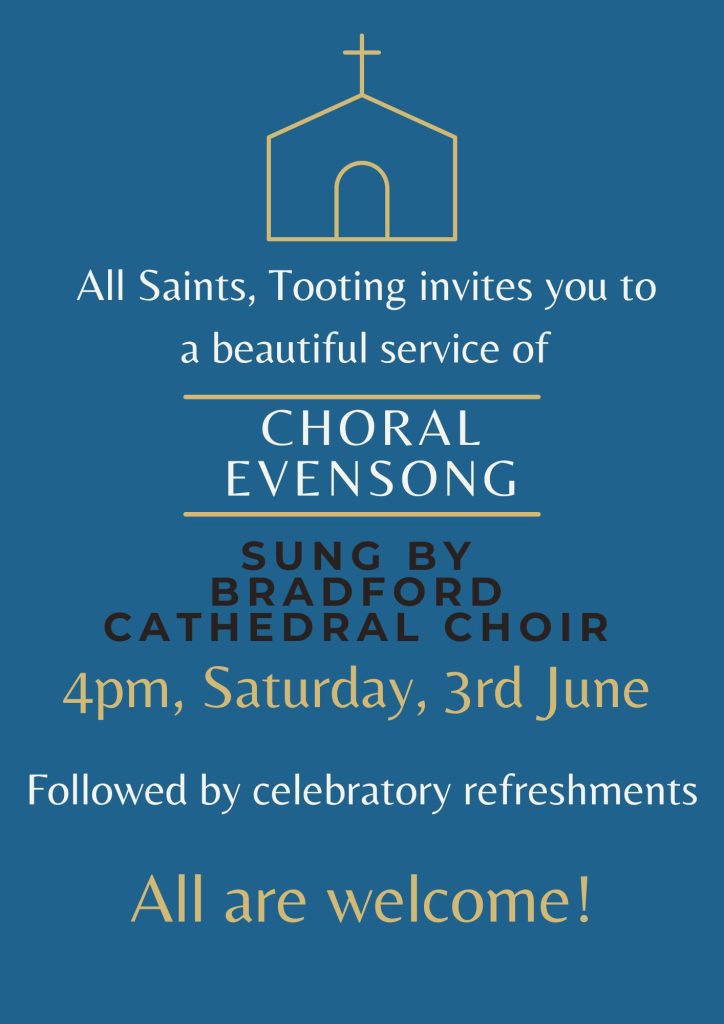 On the final day of the tour, the choir is singing at Southwark Cathedral. A Eucharist will be held at 11am, followed by a lunch in the Cathedral garden and the option to explore Borough Markets. The choir's final Evensong will begin at 3pm, and pieces will include: Rose Responses, Psalm 93, Howells' Collegium Regale, and Stainer I saw the Lord.

You will be able to view a live streaming of the 3pm Evensong on Southwark Cathedral's Facebook page.
Once the tour is finished, the choir will make the journey from London back to Bradford Cathedral. There will be updates on Bradford Cathedral's website and social media throughout the trip.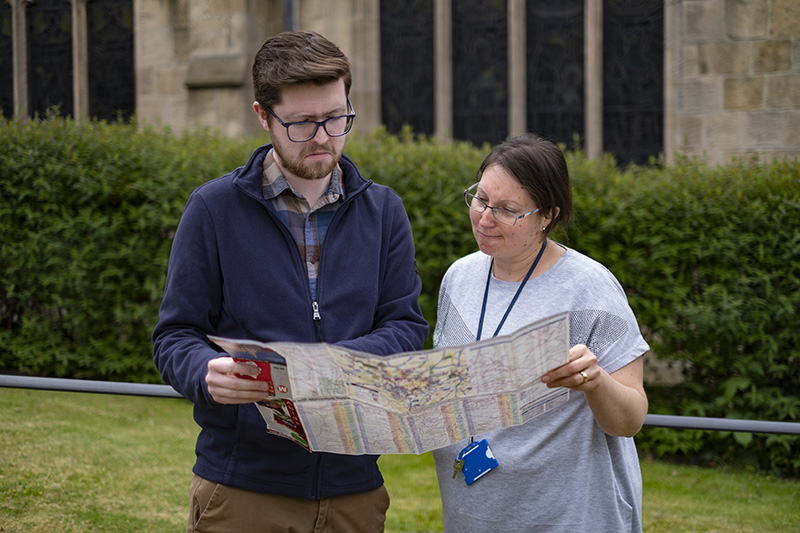 Look out on this website and our social media for the launch of our live blog about the Choir Tour and look out for regular updates across our social media, including all the livestream links. You can also follow the latest updates using #CathedralChoirTour.