Holy Week and Easter at Bradford Cathedral
The season of Holy Week and Easter begins on Palm Sunday – 2nd April 2023 – and Bradford Cathedral will be marking this with a series of services through until Easter Sunday. Further details can be found below, and all are welcome at these services.
We also have our regular Sunday services at 8am, 10:30am and 3:30pm.
The story of Jesus' journey through Holy Week and Easter will be told anew at Bradford Cathedral this spring through a programme of services and events starting with services on Palm Sunday on the 2nd April.
All are invited to join in person, with the Sunday 10:30am services also streamed online.
Welcome to Bradford Cathedral, the oldest building still in use in the City of Bradford.
You're welcome here at any time but particularly at this time of year.
Christians around the world begin to move, in Holy Week, towards remembering the death and resurrection of Jesus.
Here at the Cathedral, we'll do the same, starting on Palm Sunday when we remember Jesus' triumphant entry into the city of Jerusalem, a city where we still see so much turmoil today.
Jesus arrived, not in great triumph as we might imagine, but on a donkey, but as people saw him arriving, they began to strew his way with palm leaves, with cloaks, with all sorts of things, to say 'Here Comes The King'.
As we move through this week, we remember some of the most significant events for Christians. We gather together at the Last Supper: the time when Jesus met with the friends who'd been with him for a period of years, and they broke bread together. They shared a meal together that reminded them that God was always with them and that, even when things seemed difficult – when they seemed trapped or enslaved – God would bring freedom.
We remember that on a day which is now known as Maundy Thursday and here – in the Cathedral – we will gather to worship together, and part of our worship will indeed be the breaking of bread –  the remembering of that meal. But also we will remember a very significant part of that meal: the time when Jesus took up a towel, a bowl of water, and washed his disciples' feet – a moment when he modelled to them what it was to be a servant leader – to be a leader who led in humility – and for us it's a great time to think about – particularly those of us who are in leadership – about how do we lead the people we're called to serve.
We move from Monday Thursday to what is called Good Friday, quite a paradoxical term because this is the day when we remember the fact that Jesus went to the cross, and was crucified.
For Christians the cross, whilst a tool of execution, it is also a symbol of great triumph.
Amazingly, and despite its horrors, we worship at the cross. At the cross Christians believe we see God's love, and the beauty and depth of God's love, in painful detail.
Here at the Cathedral, we will spend a number of hours meditating quietly, as we reflect on all it meant for Jesus, to suffer and to die.
All that sense of hopelessness – the sense of things having been defeated; the sense of lostness, of isolation.
We then spend a day of quiet on Holy Saturday, another day to reflect and prepare and wait: wait in hope, knowing what is to come on Sunday.
And then, after the day of silence, we gather here to celebrate resurrection Sunday – Easter Day – when new life explodes out of death: when hope is once again reborn.
This is the most significant week in the Christian year, a week which goes from triumph, to apparent disaster, and back into triumph. But not triumph as many would see it: the triumph of one who goes from death to life, who says to all people, at all times in history: there is always hope.
You'd be very welcome to come and discover that here at Bradford Cathedral during Holy Week this year.
What to See?
Bradford Cathedral has been a site of Christian worship since the 7th century. Explore over 1000 years of history in the heart of Bradford. We also have a wealth of Morris & Co. stained glass, 18th Century monuments and a range of contemporary and historic textiles.
Holy Week and Easter Services
Worship is the heartbeat of Cathedral life and is offered daily through online Morning and Evening Prayer and the seven services each week. The main weekly service is on Sunday at 10:30 am which is also live-streamed. You can download an Order of service in advance or use the Proclaim app instead of an Order of Service.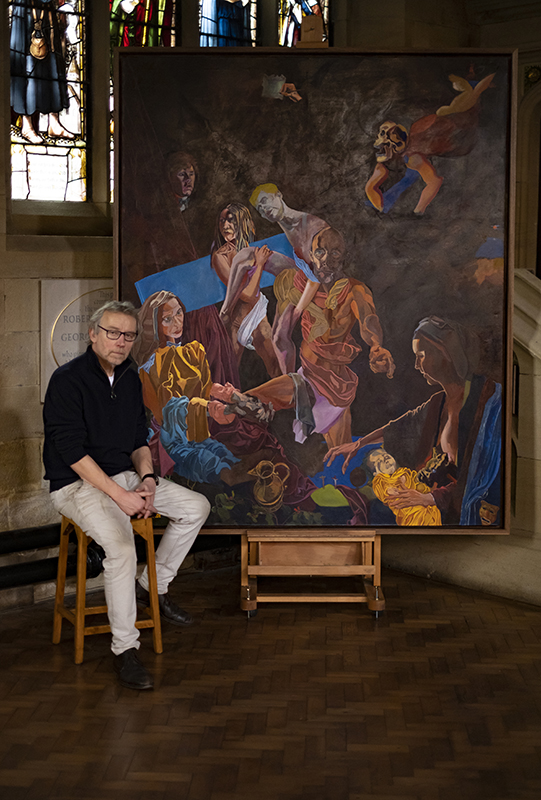 Bradford Cathedral has also made available online resources for the season of Holy Week and Easter, for teachers, parents and carers.
Palm Sunday
Holy Week and Easter
EYFS/KS1
KS2/KS3